1xBet – Advancebet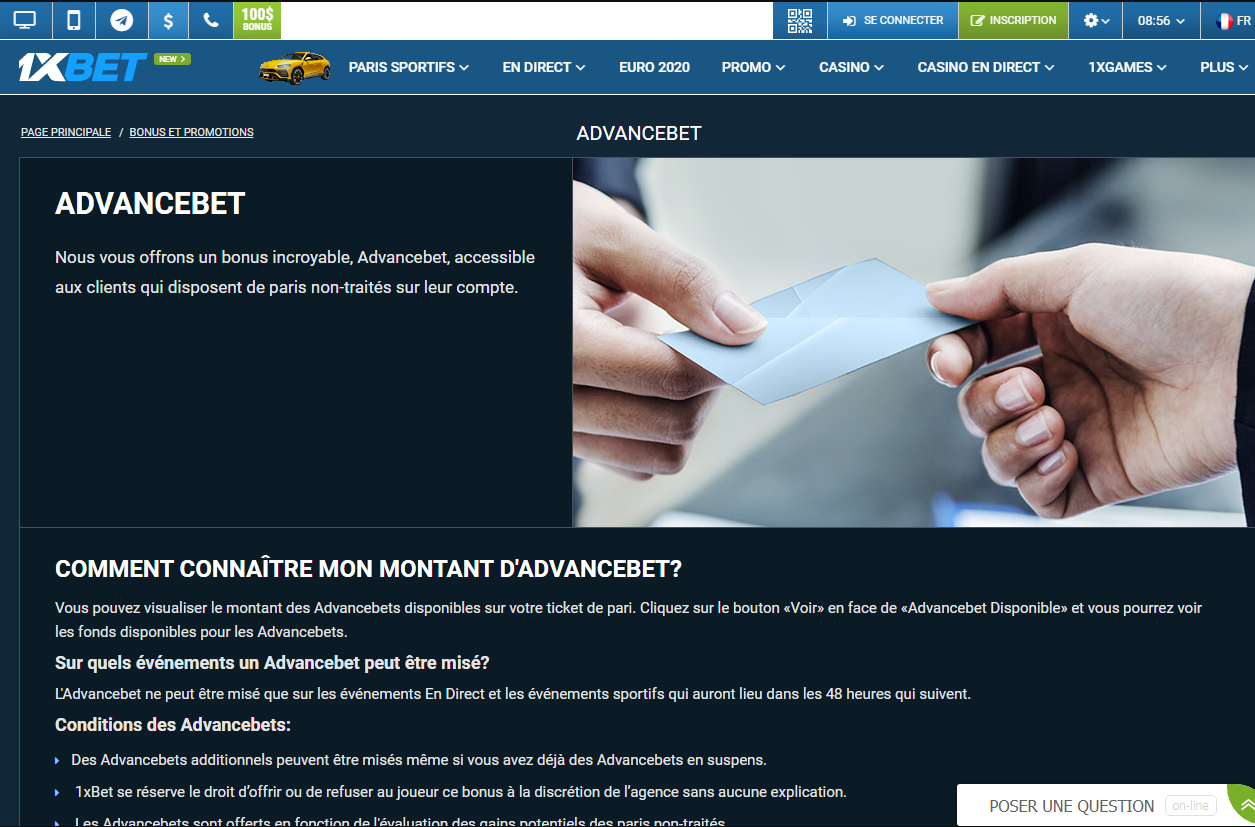 Are you running out of money? Do not worry, thanks to the 1xBet Advancebet promotion, you can still continue to play if you have two unfinished bets on the platform. Find out what you need to know about this opportunity in this guide.
1xBet Advancebet: how does it work?
The Advancebet promotion is one of the offers you will only find at 1xBet. The bookmaker gives its former customers the opportunity to make an advance bet, if you have any bets in progress. This promotion is only available for live bets and events that are starting in less than 48 hours. In addition, you can place multiple advance bets at the same time.
For example, you have $260 in your account. You simultaneously place a $150 bet with odds of 2 and a $100 bet with odds of 1.5. Your potential winnings are $300 and $150. The remaining balance is normally $10. However, thanks to the Advancebet promotion, you can get an extra $100 to place even more bets, with a maximum combined bet of $110.
How do you know your Advancebet amount?
Your Advancebet amount is calculated on the basis of the potential winnings generated by your current bets. The offer does not take into account the value of your stake. In the event that your paid and early bets lose, the Advancebet will be considered zero (you will not have to pay anything). This is undoubtedly the most interesting opportunity offered by 1xBet for regular players.
Conditions of the promotion
There are certain rules to follow to take advantage of the Advancebet promotion. Firstly, bets that you place prior to early bets, and which must be settled within 48 hours of being placed, will be used to cover your Advancebet on 1xBet.
Secondly, deposits that you make after funding advance bets with unsettled bets cannot cover your Advancebet. Thirdly, the bookmaker reserves the right to refuse the promotion to a player without the need to give an explanation. The Advancebet promotion has no expiry date at the moment, so do not wait any longer to take advantage of the offer. For more information, visit the Advancebet offer page in the 'Promotion' section of the 1xBet website. You can also contact customer support for personalized answers.
Relevant news