1xBet – Betting via Telegram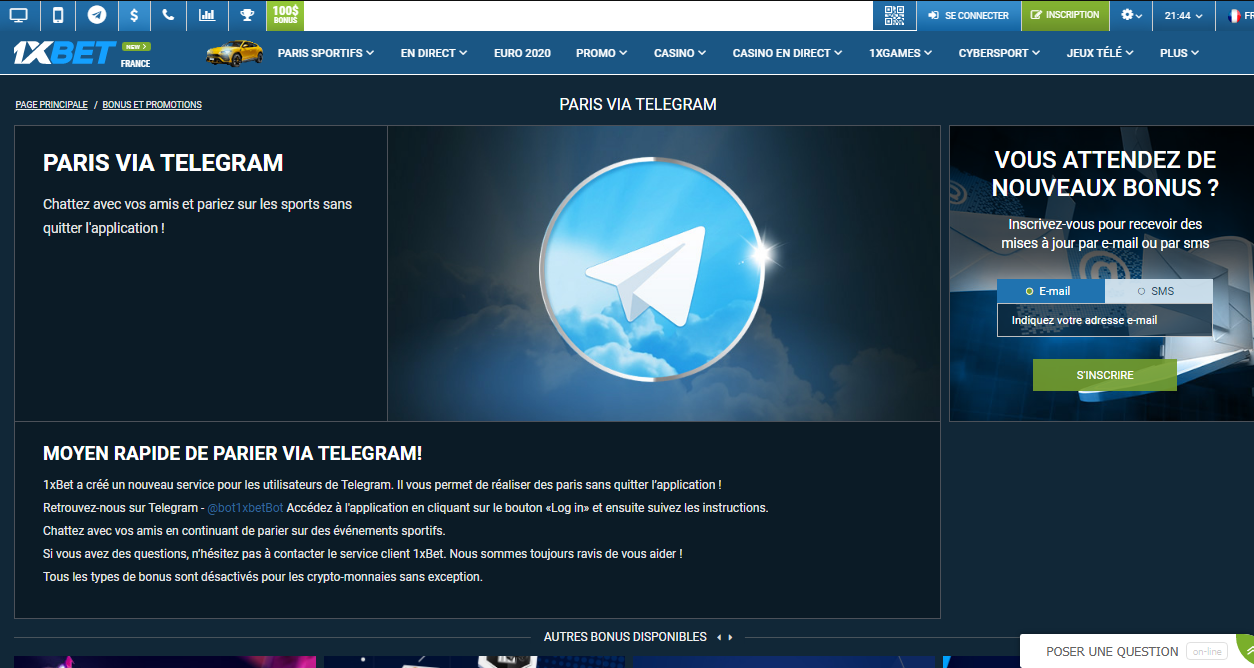 To make it even easier for you to access online betting, 1xBet has come up with the idea of partnering with a social network. Make your bets while sharing your reactions live with your friends and family thanks to the 1xBet betting via Telegram service. Find out everything you need to know about this offer in this article.
Telegram: what is it?
Telegram is a mobile chat application available on Android and iOS. It works in exactly the same way as WhatsApp. Members of the social network can communicate in groups or in private messages, create topics for discussion and enjoy many other options.
Thanks to Telegram's partnership with 1xBet, you now have the possibility to make bets while chatting about a match with your friends and family. Many Telegram members are already using the service.
1xBet betting via Telegram: how to do it?
When you register on the 1xBet website, the bookmaker offers you different registration methods, including social networks like Telegram. Simply select the Telegram icon to link your new account with 1xBet. Then type our promo code "PARIERBET" in the corresponding field and finish by pressing the "Register" button.
When you want to use the messaging application and bet at the same time, launch the Bot https://t.me/bot1xbetBot. Press the "Log in" button and follow the instructions. The Bot will provide you with instructions on how to choose bets, how to fill in your coupon, how to check your account balance or your betting log, etc. You will have access to the full range of games available on the official 1xBet website from your Telegram account. You can place sports bets, try your luck in lotteries, play card games or roulette, etc. For withdrawing your winnings, the bookmaker gives you the choice between a multitude of payment methods including VISA, e-wallets such as Qiwi and Skrill, the Neteller payment system, as well as Bitcoin.
Please note that all bonuses are disabled for all crypto-currencies. For further information, please refer to the terms and conditions of the offer in the "Promo" section of the 1xBet website, as well as the general terms of use of the portal. In case of any ambiguity, you can contact the customer support by e-mail, phone or live chat.
Relevant news