1xBet – Bonus for a series of losing bets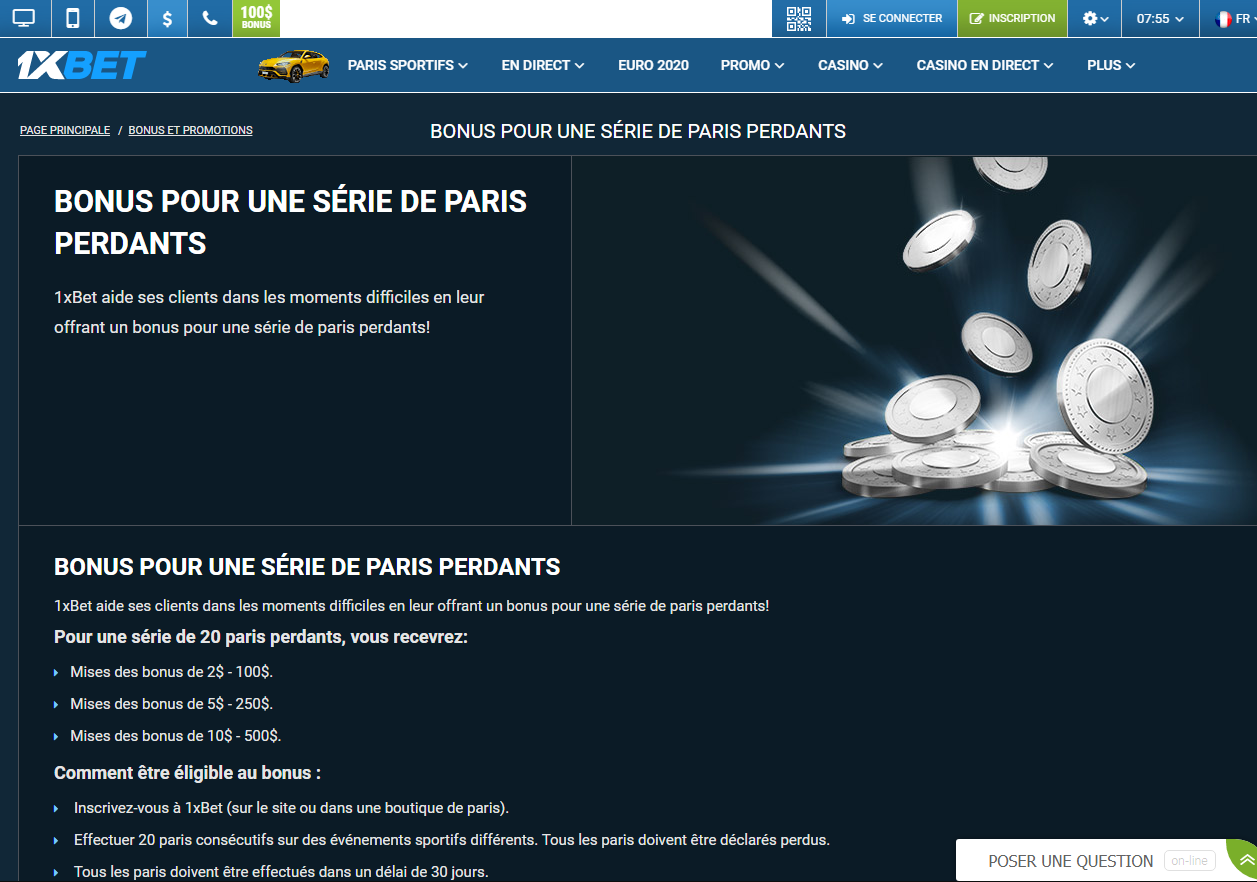 Have you been unlucky lately? Well, every bettor has experienced a losing streak at one time or another, but that is not a reason to give up. While waiting for the wheel to turn, to encourage you to persevere, 1xBet gives you a bonus for a series of losing bets. Not many bookmakers offer such an opportunity to bounce back. Find out everything you need to know about this special benefit from the Russian brand in this article.
1xBet – Bonus for a series of losing bets: when the bookmaker rewards the unlucky
Promotions and bonuses at 1xBet are not just for winners. The site has also developed offers to support and encourage its members in difficult times. When you lose 20 consecutive bets, you are entitled to the bonus for a series of losing bets, which is paid as follows:
2 – $100 bonus wagers.
5 – $250 bonus wagers.
10 – $500 bonus wagers.
Bonus requirements
First of all, you must have properly registered with 1xBet. Players with incomplete data, or who used the "quick sign-up" option at registration, do not have access to the bonus for a series of losing bets. The offer is also disabled for all the different crypto currencies.
After that, you need to make 20 successive bets on different sporting events. 1xBet offers a wide selection of sports, ranging from popular ones like football, basketball or tennis, to lesser known disciplines like greyhound racing or darts games. All of your bets will have to be declared as losses and will have to be made within 30 days. Only single bets and combined bets (all events in your coupon must be declared losers) are accepted. For each bet, you must bet a minimum of $2 or the equivalent in your currency. The odds must be 3.00 or less.
If you meet all of these requirements, send an email to info@1xbet-team.com with the subject line "Losing Bets Series". In the email, please include your account number. Please note that 1xBet will only grant one bonus per account, per person and per IP address. In case of suspicion of violation of the rules (for example if you create several profiles with false papers), the bookmaker can withdraw your advantages or even ban you from the platform.
Relevant news