1xBet – Combined bet of the day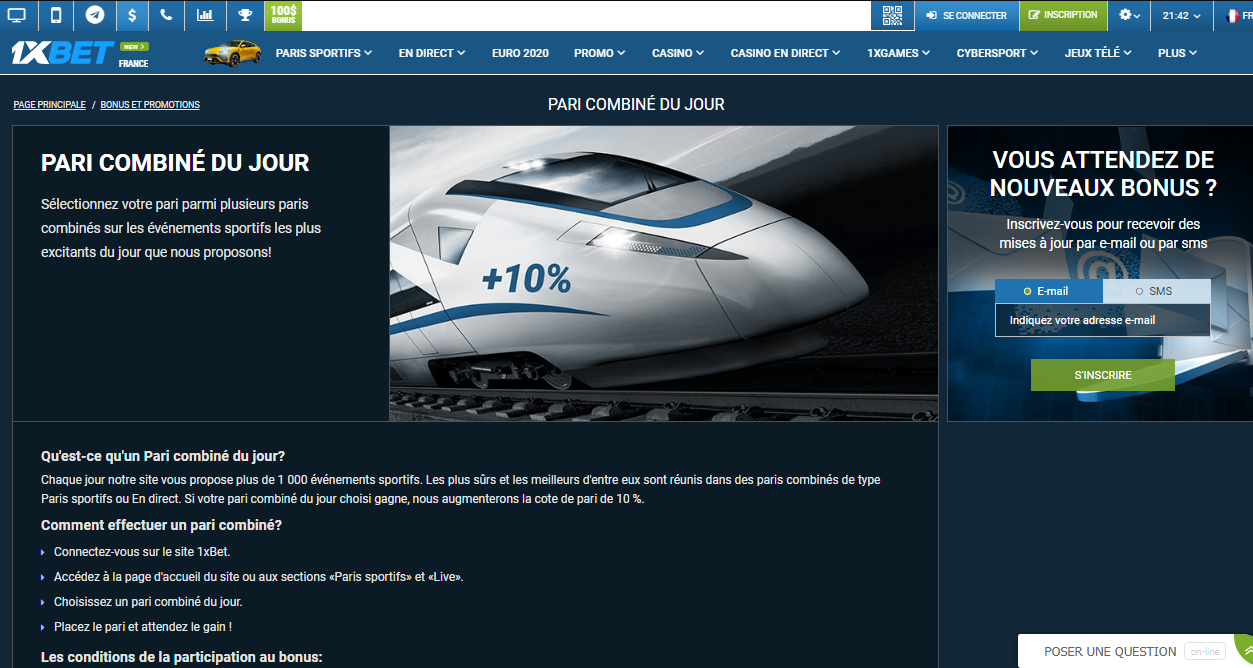 Here is an exciting and fully rewarding challenge for experienced bettors. Boost your winnings by participating in the 1xBet Combined Bet of the Day! Find out in this article how to take advantage of this promotion.
1xBet Combined bet of the day: general introduction
As a reminder, a combined bet consists of placing bets on several events at the same time. To do this, 1xBet invites you to predict the outcome of at least two matches, but you have the possibility to play up to 12 different predictions. In order to win the big jackpot, all your predictions must be correct. This is a very daring challenge, but it can change your life in just one day! In addition, if you win, 1xBet will increase the overall odds of the day's combined bet by 10%.
How to participate?
Every day, 1xBet provides bets on over a thousand sporting events. The offers are divided according to their popularity and importance in the "Sports Betting" and "Live" sections of the website. Both include daily combination betting offers that any registered bettor on the site can participate in.
To try your luck in the daily combined bets, you first need to log in to your 1xBet account. Then go to the 'Sports Betting' and 'Live' sections and watch the bets of the day. Select the first match you want to predict the results of, type in your predictions taking into account the associated odds. Once you have done this, your betting slip will be displayed. Click on the 'Add to Combined Bet' option. Indicate the other events you wish to bet on and enter your scores. Once you are satisfied with your combined bet slip, simply enter your bet amount and press 'Place Bet'. All you have to do is to wait for your teams to do the work, with a little help from fate.
What are the conditions for participation?
To be able to make a combined bet, you have to follow certain rules:
The money must come from your main bankroll. Bonuses cannot be wagered in a combined bet of the day.
The Advancebet option is not available.
You cannot add or delete events once your daily combination bet is registered.
All promotions are disabled for cryptocurrencies.
Relevant news