1xBet Deposit methods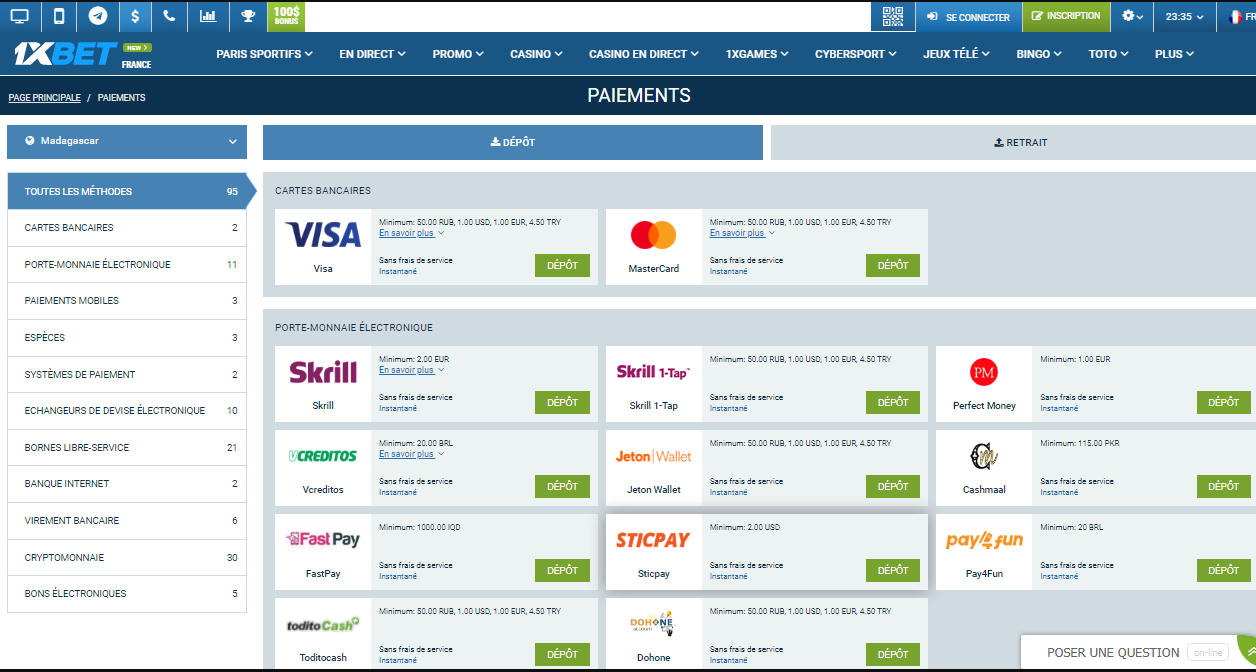 To attract betting enthusiasts, 1xBet constantly offers benefits and facilities. Among them are the deposit methods, with a special bonus for new members.
Wherever you are, it is easy to deposit money into your account. Indeed, there are several ways to do so from your country. Follow the instructions we share with you in this article.
Go to the 'Payments' section on the site
To access the 'Payments' section on the 1xBet website, click on the dollar sign at the top left of the homepage. You will be instantly redirected to the deposit and withdrawal methods page. Choose the option that best suits you and your location.
The column on the far left provides information on the various payment options that are available in your country. The site makes it easy for you to navigate by directly indicating the number of methods available for each deposit option.
Select your country to see the available payment methods
By entering the name of your country in the first column of the payment page, you will see all the deposit methods that are available there.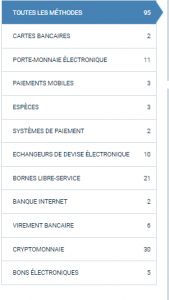 Under this column you will find the supported transaction methods, with the number of services available next to them. The options are listed globally in the main window, just scroll your cursor down.
Go to the 'deposit' column
This is the second row of the page, just after the country (the third column is the "withdrawals" column for cashing in your money).
With the simple display and convenient navigation, you will easily become familiar with this part of the site, which will save you a lot of time. If you are having trouble with your financial transactions, you can always ask 1xBet's customer support.
When selecting a service, check whether or not they charge an additional fee. Look at the time it takes to complete transactions. You should also pay attention to the minimum amount required for each deposit.
Here are the different deposit methods allowed at 1xBet in detail:
By credit card
This is a convenient and functional provision; many users choose it. Visa and Maestro cards are particularly recommended for your payments at 1xBet. Do not forget to make sure that your cards are valid in your area.
E-wallets:
Convenient and easy to use, e-wallets are an increasingly popular payment method for internet users. 1xBet allows you to make deposits with e-wallets. Qiwi, Skrill or Skrill 1-Tap are among the many available choices.
Mobile payments:
Mobile payments are of equal interest to punters to make their deposits at 1xBet, especially those who travel a lot. If you too are interested in this type of payment, be sure to check which offers match your country.
Cash payments:
Depositing cash at 1xBet is possible! Ask the representatives in your country or contact the customer service.
Payment systems:
Using Neteller and Eco, you can also deposit your money to 1xBet.
Electronic currency exchange:
If you are comfortable with online payments, you can make your deposit with crypto-currencies, online bank cards or others.
Self-service kiosks:
It's feasible to credit your account at 1xBet via self-service kiosks.
Online banking:
You can fund your balance using the web services of your usual bank (or Internet Banking). Several banks cooperate with the platform.
Prepaid cards:
If you are not comfortable with regular bank cards, use prepaid cards. AstroPay and MoneySafe cards are among the popular choices.
Bank transfers:
It is possible to make deposits at 1xbet by bank transfer from your bank account. You have a wide range of possibilities in this section.
Crypto-currency
This category also offers many solutions. Bitcoin is one of the available crypto-currencies for online deposits.
E-vouchers
This is the last, but not least, option for making a deposit at 1xBet.
1xBet continually updates the list of supported payment services to simplify your money transfers, wherever you are, according to your possibilities.
Relevant news