1xBet – E-sport era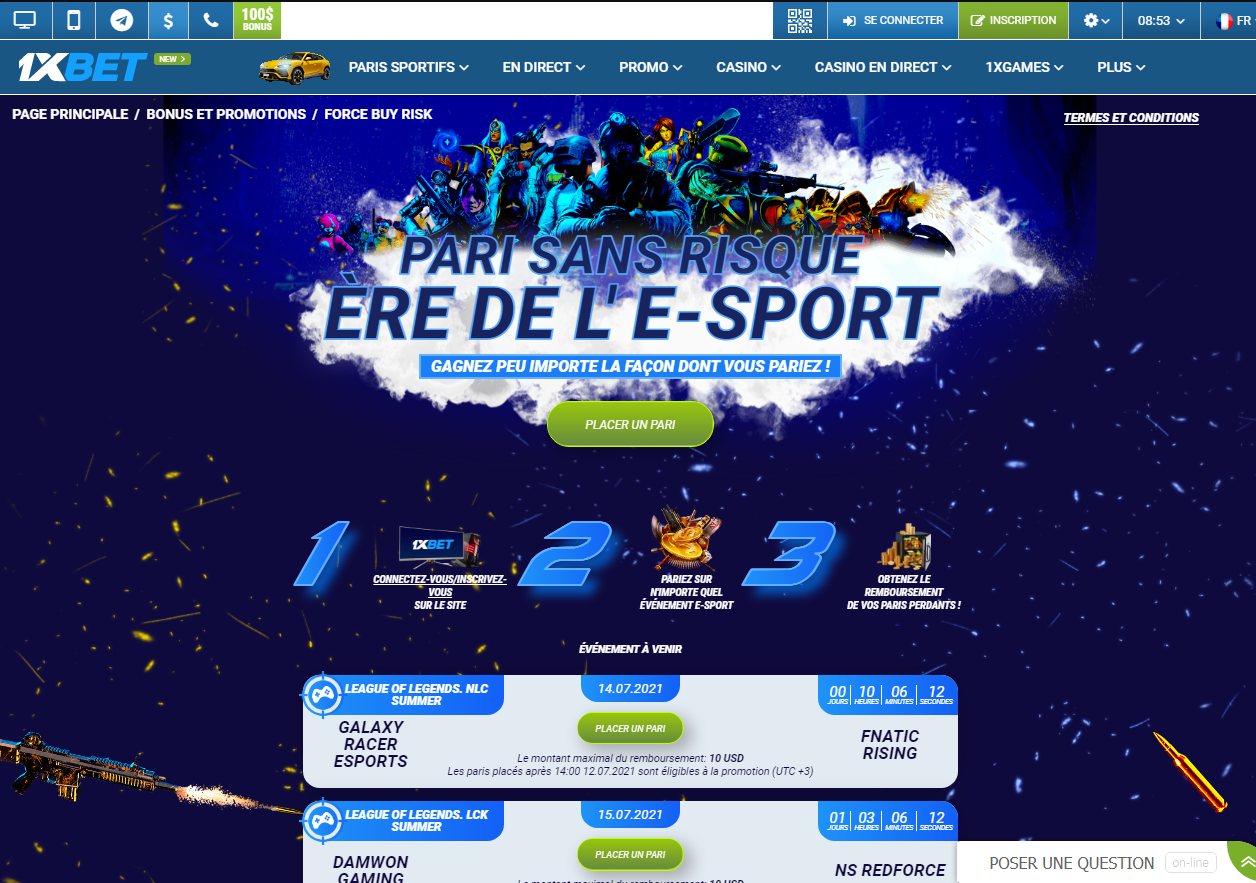 Are you a fan of League of Legends, Cs: Go, etc.? Take part in the 1xBet Era of E-sport promotion. With this offer, you will always come out a winner! Even if you lose your bets, the bookmaker will refund your stake. Here are the rules of the game.
1xBet E-sport era: how does it work?
To take advantage of the 1xBet E-sports era promotion, all you have to do is to follow these few steps:
Register on the 1xBet platform or log in to your account
Place a bet on any of the available events in the E-sport section
If you lose, get a refund from 1xBet
Conditions of participation
You must be a member of 1xBet to be able to access the risk-free betting promotion of E-Sport Era. All fields in your profile must be completed and your mobile phone number active. You must also indicate your participation in the bonus offers in the Account Settings.
Once these requirements are met, go to the 1xBet E-Sports Era promotion page and place a single pre-match or live bet on an event of your choice. You are only allowed to place one bet per match. You must stake real money (Advancebets, insured bets, promo codes and sold bets are not accepted).
If your single bet loses, 1xBet will award you a bonus equal to the amount of the lost bet, up to the maximum payout specified for each match. If your bet wins, you will receive the normal payout, with no bonus.
The refund is credited as a promo code. The payout is made within 24 hours of the bet being settled. You can view the terms and conditions for using promo codes in Account Settings – Promo Code Verification.
1xBet retains the right to monitor your transaction and login history. If any attempts at abuse or multiple account use are detected, the bookmaker may cancel all your bonuses, refuse your participation in any future promotions, or even close your account. Be sure to read the terms and conditions of the promotion, as well as the general conditions of the site, so that you can bet with complete peace of mind. If you have any doubts, do not hesitate to contact the customer support team, which is available 24 hours a day, 7 days a week.
Relevant news