1xBet for iPhone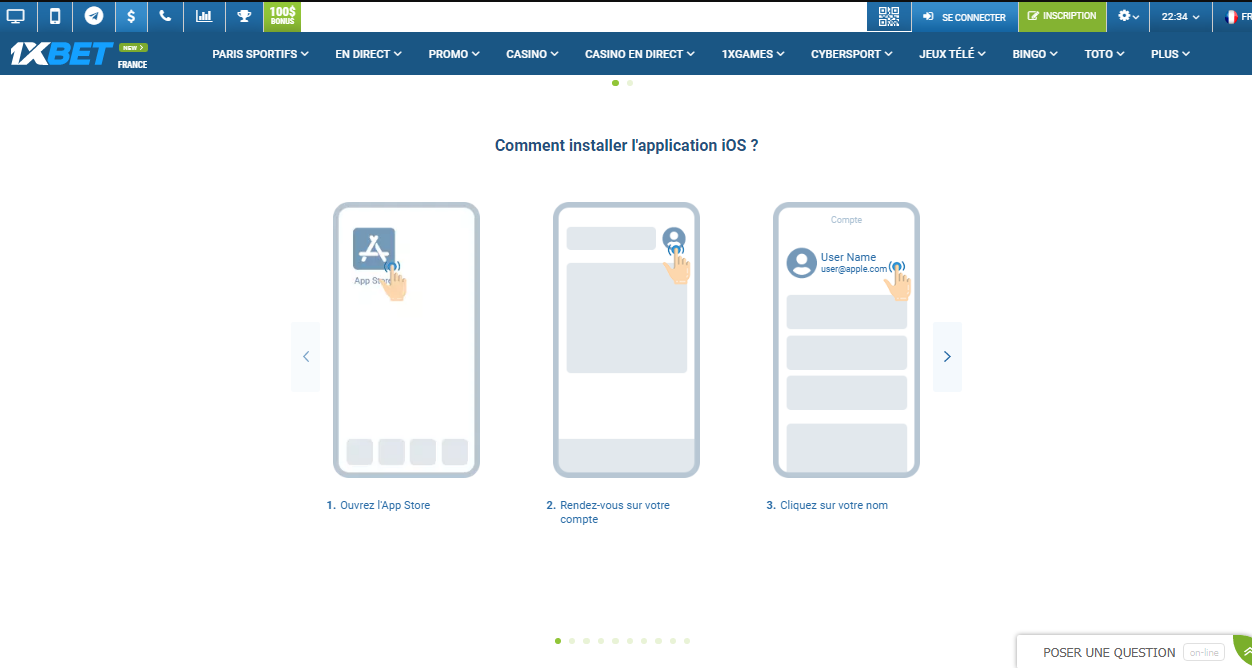 Apple fans, be happy, the 1xBet application for iPhone is now available! Install the program on your mobile and enjoy permanent access to the services of the Russian bookmaker, wherever you are and whenever you want. This is how you do it.
How to download the 1xBet application for iPhone?
Unlike the 1xBet for Android apk, installing the 1xBet for iPhone app is a bit trickier. Proceed as follows:
Go to the Settings section of your iPhone and open the iTunes Store and App Store section;
Click on 'Apple ID', bring up your account and enter your password;
Then go to 'Country/Region', click on 'Change Country or Region', select a country where the bookmaker is licensed (*) (e.g. Cyprus);
Accept the Apple Multimedia Services Terms and Conditions
Fill in the form that appears on the screen, select "None" in the list of payment methods, then press "Next";
Log in to the App Store and search for the 1xBet app (do not download the 1xBet app for iOS from unknown sites under any circumstances to avoid malware);

(*) Sometimes the download is refused in geographical areas where the bookmaker is blocked.  If any error message appears during installation (e.g. "Your current payment method is not valid in this store"), you need to create a new profile on appleid.apple.com indicating a country where 1xBet is allowed. Log out, add a new account and go to the App Store to re-download the software.
The 1xBet app for iOS is supported by the iPhone 5 and all later versions. It is compatible with any iPad running at least iOS 7.
Take advantage of many benefits by using the 1xBet iOS app
The 1xBet app for iPhone is a state-of-the-art tool. You have access to modern mechanisms for a comfortable mobile experience and fast progress. Get optimal odds by exploiting the hints displayed on the interface of the app. Monitor your activity by archiving all the bets you have participated in the history.
You can watch Live Stream events for many sports (football, basketball, tennis, athletics, etc.). The Casino section is also available for fans of slot machines, poker, lotto, etc. As long as your bankroll allows it, you can bet your money directly on sports matches or on tournaments in hall games. Financial operations are simplified on the iOS app 1xBet, whether it is to fund your account or withdraw winnings.
Do not hesitate to ask for help from 1xBet's customer service if you encounter any difficulties. You can explain your problem to them via email or chat, or call them directly by phone. The contact details are displayed in the 'Contacts' section on the official website.
Optimize your iPhone for a better gaming experience
If your device is slow, it can affect the installation and use of an application in general. This may be due to a storage memory that is close to saturation, or it may be due to a shortage of RAM. To overcome this problem, you can use cleaning and performance boosting software such as the Ccleaner system.
To optimise the efficiency of your iPhone, first check for updates. If these are more than a year old, it is essential that you update them. Go to the "Settings" menu to enable synchronisation.
Next, look at the storage space on your phone. A full disk can cause bugs or slow down your iPhone or iPad. If you notice this, you need to delete some of the heavy data (videos, images, apps, games, etc.). If you want to keep them, transfer them to an external storage device to unload your ROM. The best thing to do is to reserve at least 1 Giga of free space to enjoy a smooth daily use. Finally, deactivate the systematic display of ads and unwanted notifications in the background.
A reboot can be a solution for some malfunctions, but if the bugs persist, start resetting your iPhone to its factory configuration.  Always remember to save your archives to an external hard drive and scan them regularly with an anti-virus software.
Relevant news