1xBet – Formula 1 betting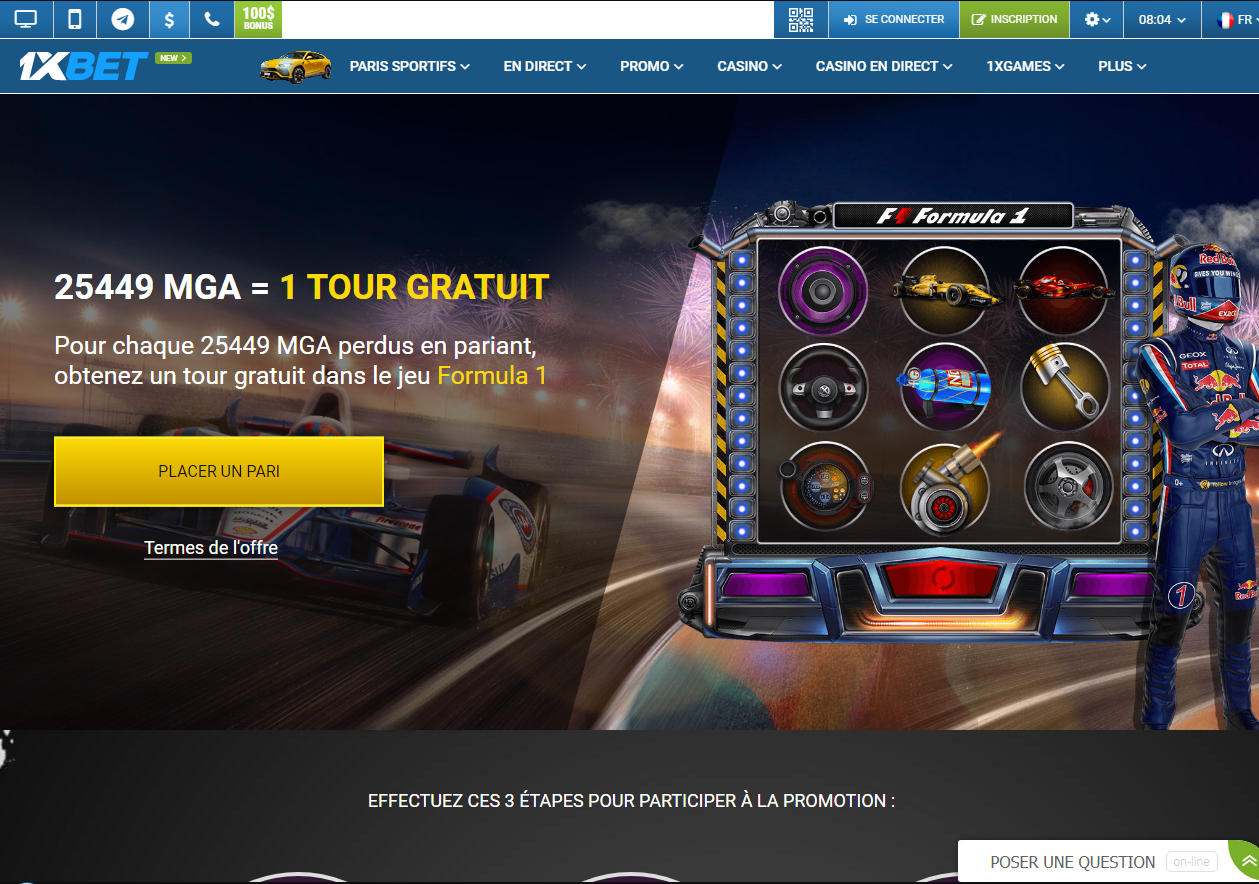 Do you like motor sports? Take part in the 1xBet Paris Formula 1 promotion and receive a free spin for every bet lost over a certain amount. Here are the rules of the game.
1xBet on Formula 1: how does it work?
It is not very complicated. Register with 1xBet or log in if you already have an account. Place bets on Formula 1 races. For each event, you must select odds of 1.4 or higher and bet a minimum of €5.7. For every lost bet with a stake of 5.7 euros, the bookmaker offers you a free spin. The more pre-match bets you make, the greater your chances of winning the jackpot in the Formula 1 game will be.
Conditions of participation
Whether you are a new user or an active member of 1xBet, you have the opportunity to benefit from the Formula 1 Betting promotion. There is no limit on the number of bonuses you can receive. This offer is only valid for real money bets. It does not take into account bets made with Advancebets, bonuses or refunds.
The terms and conditions of the promotion may be changed at any time by 1xBet. The bookmaker reserves the right to cancel or renew the offer without notice, or not to accept a player's participation. It may also monitor your transaction and login history. In case 1xBet detects suspicious activity, abuse attempts or money laundering, the platform may deny your eligibility for the bonus or cancel your rewards if you have already collected some. If the suspicions turn out to be true, the company will close your account directly and will freeze the remaining balance.
In some situations, you will be asked to provide identity cards in order to verify your profile. 1xBet may also request a photo of you holding your identification document and proceed with a telephone verification. Failure to do so may result in the cancellation of your bonuses and winnings. Please check the terms and conditions of the site, as well as the promotions, for all the rules to follow. If you have any questions, please contact customer support. You can send your queries by phone, email or live chat. Advisors are available 24 hours a day, 7 days a week.
Relevant news