1xBet Games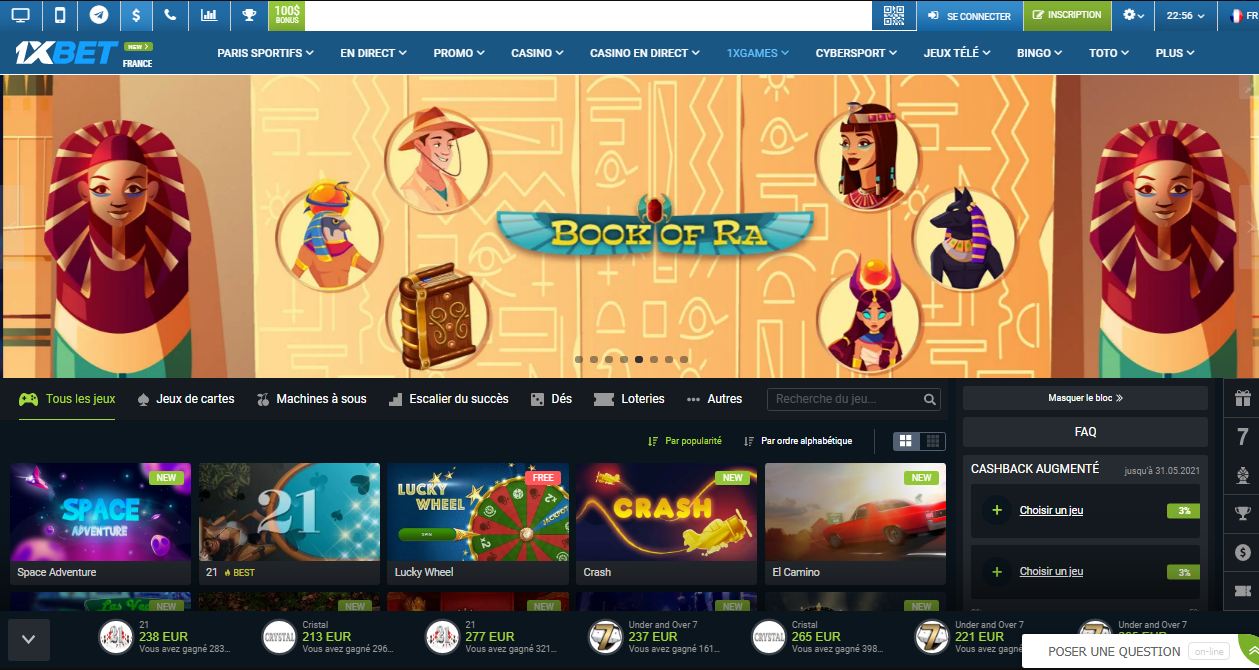 Explore the 1xBet Games section to discover a whole host of attractions, including in-house developed games.
How do I find a game in 1xBet Games?
When you are on the 1xBet website, click on the 1xGames section on the horizontal bar at the top of the homepage. You will see a large selection of games. If you are not interested in any of the featured titles, you can search by entering the name of a specific game in the dedicated field. Alternatively, you can sort the titles by category. The different types of available games are highlighted in the horizontal bar above the catalogue.
What types of games are available in 1xGames?
Here are the types of games available in the 1xGames section:
Card games
Undoubtedly one of the most famous forms of entertainment in the world, virtual card games are abundant in 1xGames. You will find your favorite attractions: the unmissable Dota 21, but also Triple Pocket Hold'em, India Poker, Lucky Card or Red Dog. You can also try out the 1xGames version of Blackjack and Baccarat.
Slot machines
There are as many slot machines as you can think of, and they come in different themes. Here are a few titles that are sure to catch your eye: OXO, Pandora's Slots, Burning Hot and Master Panda. Also check out Grand Theft Auto, The Walking Dead, Stars and Game of Thrones, still on 1xBet Games.
Dice games
Are you looking for dice games? 1xGames has more than enough to satisfy you. Browse through the many offers of this type of game. Dice is the most appreciated by players. Discover Hot Dice which is one of the latest updates in 1xGames, or Dice of Riches and PF Dice.
Lotteries
There are around 40 attractions in the lottery section of 1xGames. Avengers Scratch Card and 1xCases stand out among the recent releases in this category. If you are a 1xBet member, you will be entitled to a free game on Lucky Wheel. As for the pay-to-play options, there are several games that are just a click away such as Super Marion, Higher vs Lower, Derby Racing, Russian Lotto and Spin and win.
Out-of-category games
There are a dozen other games that do not belong in the sections mentioned above. Browse through them, there are cool titles like Heads, Tails and Thimbles, Russian Roulette, African Roulette, Shootouts, Free Throws and Dominoes. And remember to try out new games like Fruit Blast, Jungle Secrets and Commander. Enjoy a wonderful virtual reality experience in real time by playing VR Casino. Furthermore, if you are registered at 1xBet the Plumber game will be free of charge for you.
Earn rewards by playing on 1xGames
You can maximise your profits and unlock certain features of 1xGames by playing. To do this, sign up for special competitions such as the 'Daily Tournament'. By participating in these challenges, you can earn points or rewards, which you can then use in other challenges. Also check out the "Daily Quest", another way to earn points to improve your performance.
1xGames: available on PC and mobile devices
The games offered in 1xGames are of high quality. The neat graphics guarantee a pleasant visual experience. You can play on your smartphone, tablet or computer, as long as your device has an internet connection. The 1xBet website works on all PC models. When it comes to the mobile application, there is a version for Android and another for iOS. Go to the official portal to see how to download and install it.
You will benefit from several advantages by opting for the 1xBet app. First of all, there is the ease of access, while enjoying similar features as that of the site. You can play in 1xGames wherever you are. The attractions are accessible at any time, day or night, as 1xBet is at your disposal 24 hours a day. Do not forget to create your account at 1xbet if you do not have one yet. The procedures are simple. If you have any concerns, either during subscription or while playing in 1xGames, do not hesitate to contact customer support.
Relevant news