1xBet – Goals in the top corner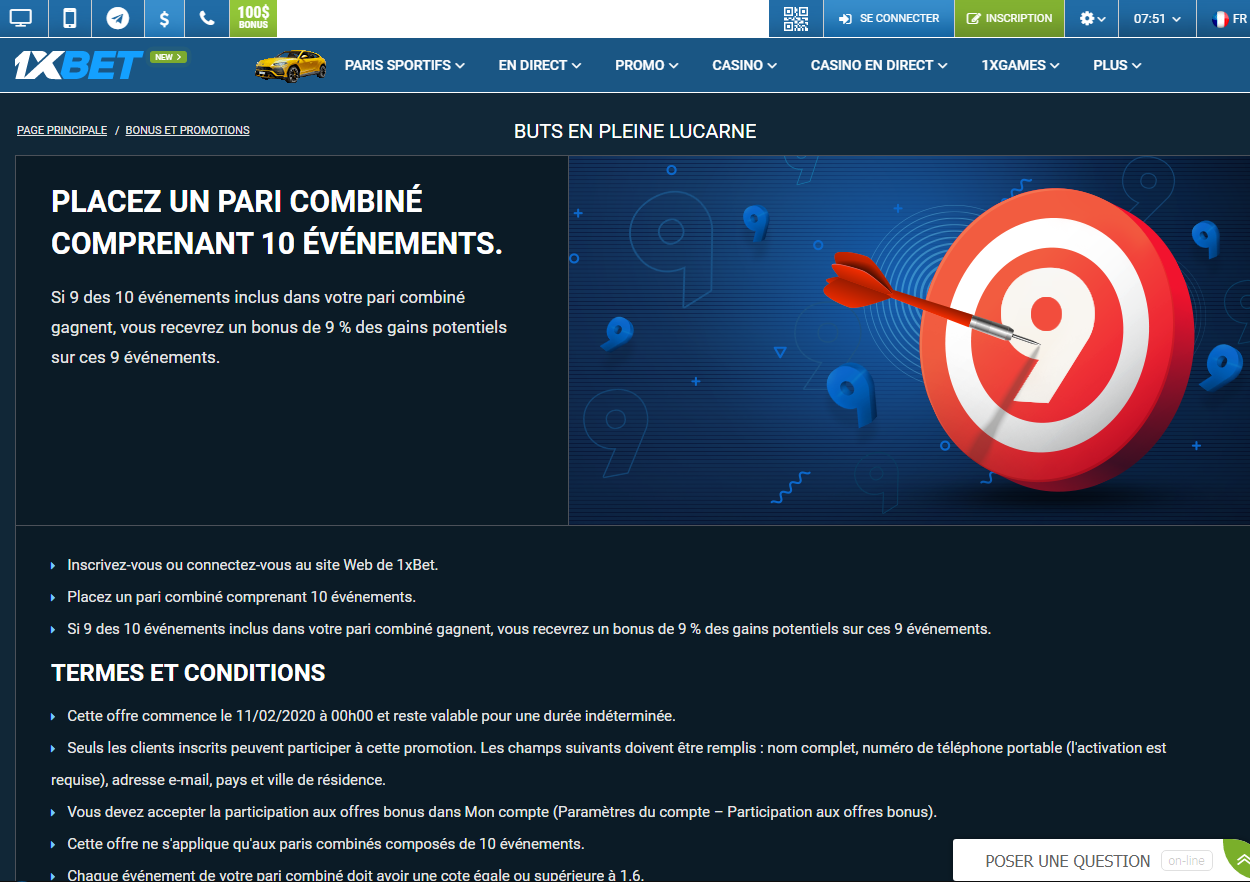 Do you like combination bets? The 1xBet Goals in the Top Corner promotion allows you to get a bonus by combining predictions. Find out the rules of the game in this article.
1xBet Goals in the Top Corner: how does it work?
First of all, if you do not have an account with 1xBet yet, register via one of the available options on the platform. Once you have registered, make a combined bet of 10 events. If 9 of the 10 predictions you have made win, the bookmaker will give you a bonus of 9% of the winnings from the 9 events.
Conditions of participation
Only members who have completed their profile, including phone number activation, can apply for this offer. Then go to Account Settings and activate bonus participation. This promotion is only valid for combined bets with 10 events, with odds of 1.6 or higher for each event. You must wager real money, Advancebets and promo codes are not accepted. In other words, this offer cannot be combined with other promotions at 1xBet. All types of bonuses are disabled for cryptocurrencies without exception.
If you win, the bonus will be paid into your account within 24 hours of the winning bets being settled on your combination. The 1xBet Goals in the top corner promo does not take into account events that take place more than 30 days after the combination bet placement.
Each bettor is entitled to only one bonus. To identify you, 1xBet checks your home address and IP address, as well as various account details. If an attempt to use multiple accounts is detected, all your bonuses on all accounts will be suspended.
1xBet can check your transaction history at any time and in case of suspicion of fraudulent strategies, the bookmaker reserves the right to refuse your participation in the bonus and to cancel your rewards if they have already been awarded. The terms and conditions of the site will also be applied.
Please take the time to read the detailed presentation of the 1xBet Goals in the top corner offer in the 'Promo' section of the portal. You have to comply with every single instruction to get the bonus. In case of doubt, do not hesitate to ask for help from the customer support. You can get personalized assistance 24 hours a day, 7 days a week, depending on the channel you choose: phone, email or live chat.
Relevant news