1xBet – Grand slam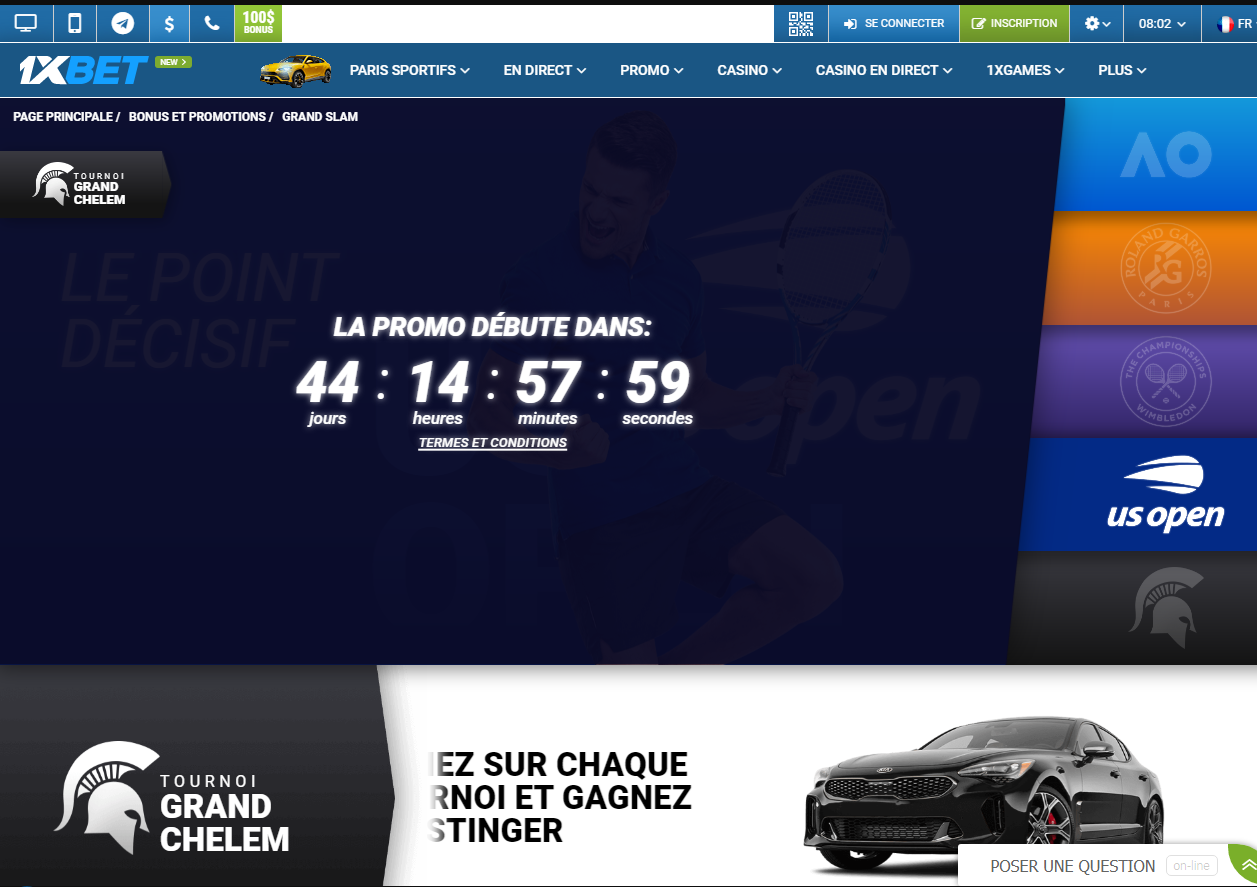 Tennis fans, bet on the biggest tournaments in the world and win great prizes with the 1xBet Grand slam promotion. Here's everything you need to know to take advantage of this offer.
1xBet Grand slam: how does it work?
Start by registering with 1xBet. Then go to the Grand slam offer page in the 'Promo' section of the site and press the 'Join' button. From there, you are free to select the matches you want to bet on, as long as you meet the minimum stake of $4. This promo covers all the major tournaments of the 2021 Grand Slam: Rolland Garros, Australian Open, US Open and Wimbledon.
For every bet you place, you receive a lottery ticket. This means that the more bets you place; the more tickets you get to increase your chances of winning the grand prize. When it's time for the draw, check the offer page and wait for the results.
Here are some examples of prizes you can win with the 1xBet Grand slam promo:
KIA Stinger car
Apple iPhone 12 Pro Max 256 Gb Smartphone
Apple iPhone 12 256 Gb Smartphone
Microsoft Xbox Series X 1TB game console
Sony PlayStation 5 Game Console
Apple AirPods Maх headset
Apple AirPods Pro Headset
MacBook Pro 13″ 2020 laptop
Apple Watch 6 smartwatch
750,000 bonus points.
Terms and conditions
The promotion period is displayed on the offer page. You must have a complete profile and activate your phone number to participate in the promotion. Only bets made with real money will be considered (bets made with bonuses or Advancebets, cancelled, sold or refunded bets are not accepted).
You can place as many bets as you like and receive the corresponding tickets. All tickets awarded for each bet you make on the tournaments covered by the promotion will be entered into the final draw, except for winning tickets that have already won other draws. The winning tickets will be drawn randomly.
If you have won one of the main prizes, you will not be eligible to receive secondary prizes in the same draw, but you will still be eligible to enter subsequent draws. See the offer page for more details.
Relevant news