1xBet Hyper Bonus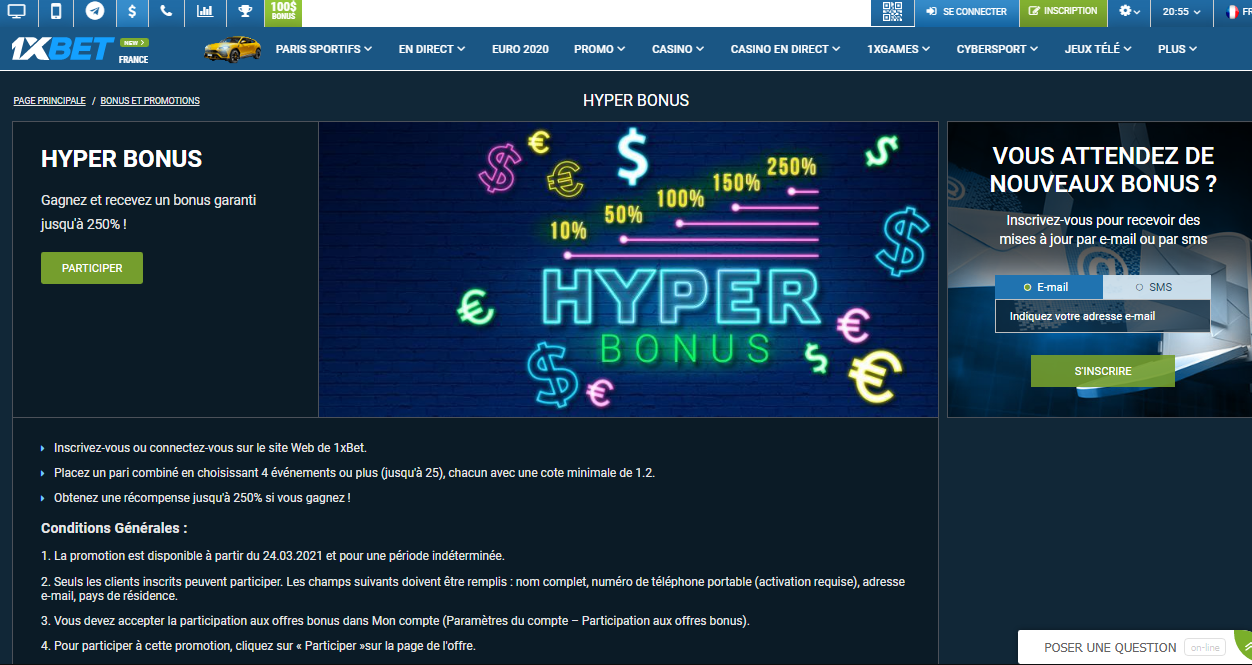 Imagine receiving a 250% bonus on your winnings. At 1xBet, this is possible! By participating in the 1xBet Hyper Bonus promotion, your winning combined bets will be rewarded with bonuses ranging from 5% to 250%. Here are the basic rules of the game!
1xBet Hyper Bonus: how does it work?
Whether you log in on your computer or via the 1xBet mobile app, you will find details of the Hyper Bonus +250% offer in the 'Promotion' section of the portal.
With the Hyper Bonus promotion, you get bonuses depending on the number of combined bets you make on 1xBet. Your combination must include at least 4 events to be eligible for the offer. You can accumulate up to 25 events! Please note that all your predictions must come true to receive the bonus. Only events with minimum odds of 1.20 are eligible for the 1xBet Hyper Bonus.
Based on the number of events entered in your combined betting slip, the reward varies from 5% for 4 events to 250% for 25 events. The more matches you placed in your combo, the bigger the win is. You can find a table detailing the potential payouts on the Hyper Bonus page.
Conditions of participation
This offer is only open to active members who place bets on the platform every day. Each player is entitled to only one Hyper Bonus per day and this offer cannot be combined with any other promotions developed by 1xBet. The bookmaker may check your activity history and if there is any evidence of fraud or abuse, he reserves the right to refuse your participation in the bonus or even close your account and freeze the remaining balance.
You can find all the details on the page dedicated to the "Hyper Bonus" promotion. If anything is not clear, ask for help from 1xBet customer support. The advisors are at your service 24 hours a day, 7 days a week. You can ask them questions by email, live chat or by calling them directly.
Relevant news