1xBet Live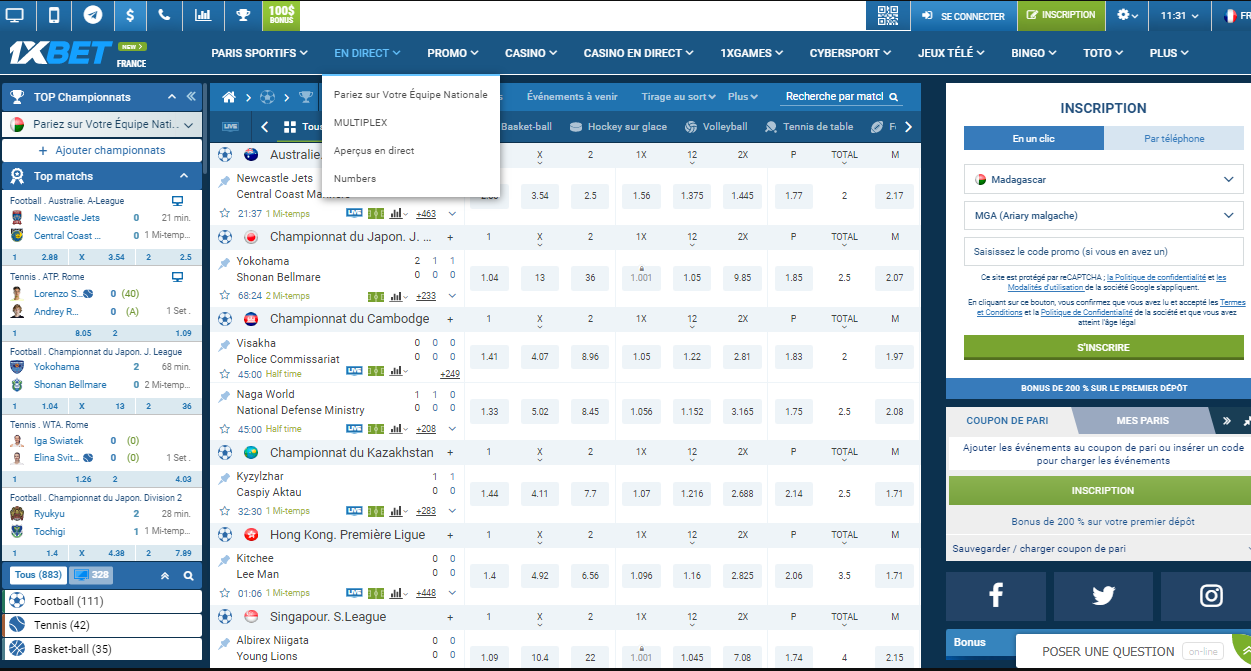 1xBet is well known for its wide range of pre-match bets, but the Russian bookmaker also offers live betting on a whole host of different events and competitions. Find out in this article everything you need to know about the 1xBet Live section: which sports you can bet on, what types of predictions are available, how to bet live on the platform, how to take advantage of the TV Stream function, etc.
1xBet Live: accessible sports and betting options
As in the normal betting section, more than 40 sports are listed on the 1xBet Live page, including football, tennis, athletics, basketball, rugby, formula 1, billiards, etc. The proposed events vary according to the different seasons and sports competitions. The bookmaker has also a section dedicated to e-sports, where you can bet on international tournaments like the ESL.
Many types of bets can be made live, ranging from single and combined bets to multiple bets, conditional, patents, systems, chains, lucky, etc.
How do I place a live bet at 1XBet?
To place a live bet, follow these steps:
Go to the 1xBet website and log into your player account;
Click on the "Live" tab on the horizontal bar at the top of the page;
Choose one or more events according to your goals;
On the right hand side bar, press the 'Bet Hit' button;
Make your choice of bet type, select the amount you want to bet and validate your operation.
Every month, 1xBet organizes a big odds challenge for live betting subscribers. The ten bettors who win a game with the highest odds will get a part of the offered jackpot. There is also a special challenge for pre-match betting, with roughly the same reward and participation conditions.
1XBet Live Stream: watch live matches
This is one of the biggest advantages of 1xBet. The online TV service allows you to watch live matches on your computer. Feel free to download the 1xBet app for Android or iOS to enjoy Live Stream on your smartphone, tablet or iPhone. You can among other things watch football, tennis, basketball, volleyball, hockey, etc., but also e-Sports events like Mortal Kombat, FIFA or Counter Strike.
1xBet does not broadcast matches from major international competitions such as the Champions League or the Rolland Garros due to the high cost of broadcasting rights. For football enthusiasts, the bookmaker offers live matches from the Italian Lega Pro A, Georgia D1 and Armenia D2, among others.
You can easily spot the live events by a small TV-like pictogram with the word 'Live' in it. When you get to the page of the event you want to follow, click on the square icon with a triangle inside to display the playback window. At the bottom of the video you will find a list of all the live bets available.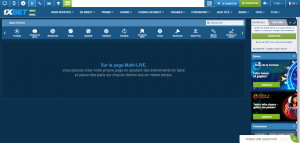 When you get used to this feature, try the 'Multiplex' function which allows you to watch different matches at the same time.
1XBet Live: how to maximize your profits?
Follow these recommendations to make the most profit on 1xBet Live:
Exploit the Live Stream feature of 1XBet
Do not bet on matches on which you have no visibility. Statistics are good, but it is always different to have a video to see by yourself if a team is weakening, and thus find the best time to place your bets. Online TV is an effective tool to boost your winnings.
Opt for two-way bets
This tip is mainly for beginners. You will have a much better chance of winning with a two-outcome bet than a three-outcome prediction. For example, it is easier to predict the winner of a tennis match than to make a 1×2 bet on football. However, be careful not to always bet on the same team or the same player. Whether it is a pre-match or live bet, it is always important to do a good analysis, follow the sports news, etc.
Manage your bets according to the progress of the match
Are you watching a live match on 1xBet? Do you see that a striker is having some difficulty in moving? Place a bet on the next injury without delay! Basically, pay attention to all the events on the pitch so that you do not miss any opportunity to make a good deal.
Relevant news