1xBet – Lucky Friday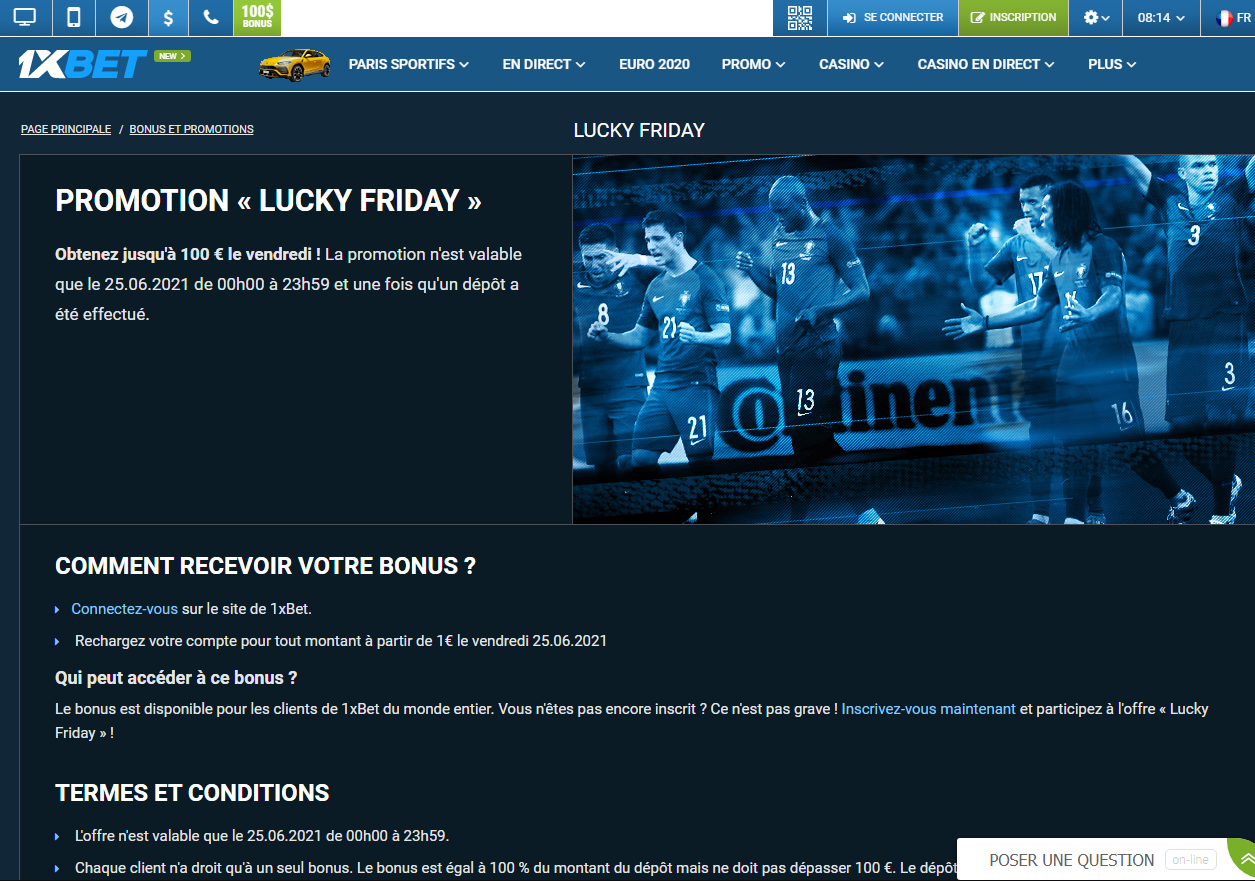 After all a long week of work, Friday is the perfect day to unwind while placing some bets at 1xBet. What's more, the bookmaker doubles the deposits you make on that day, just to spoil you. Find out in this article all the steps to follow to take advantages of 1xBet Lucky Friday offer.
How do I get the 1xBet Lucky Friday bonus?
The Lucky Friday promotion is open to all 1xBet members, including those who are in Africa. The offer is valid on Fridays from 00:01 to 11 :59 pm.
To qualify for the bonus, apart from being registered on the platform, you must be an active player. When Friday arrives, log in to your account and credit your balance with a minimum amount of 1 euro. The reward is awarded only once per player and is equal to 100% of the amount deposited, not exceeding €100. As soon as your deposit is approved, 1xBet automatically adds the Lucky Friday bonus to your bankroll. You can invest the amount directly in bets on all events covered by the bookmaker.
Terms and conditions of the promotion
Please note that in order to receive the 1xBet Lucky Friday promotion, you must agree to participate in the offer by activating the dedicated option in your account settings. As previously stated, each customer is entitled to one and only one bonus and any abuse may result in the closure of your account.
The Lucky Friday bonus cannot be combined with other promotions at 1xBet, which have different terms. The site has a highly sophisticated detection program to prevent any attempt at duplication. In the event of a breach, 1xBet reserves the right to change, cancel or even block bonuses without the need to notify the customer.
If you wish to withdraw the bonus in cash, you must follow the following rules:
Within 24 hours of receiving the reward, you must place at least three times the bonus amount in combined bets.
For each combination bet, you must bet on at least three sporting events with odds of 1.40 or higher.
You can find the conditions in details in the 'Promo' section of the 1xBet website. It is important that you read the terms and conditions carefully to avoid having your bonuses taken away during the game. If you have any doubts, you can always ask for help from 1xBet customer support.
Relevant news