1xBet – Monte Carlo Jackpot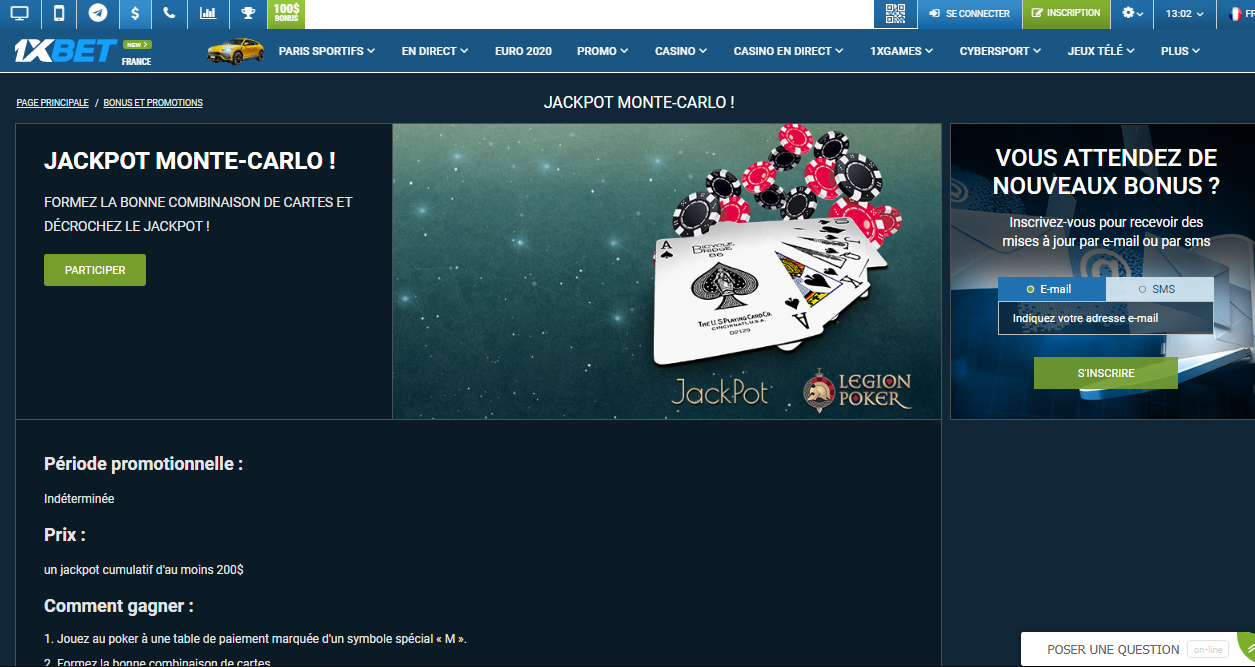 Poker enthusiasts, try your luck at 1xBet. Get the right card combination and win the Monte Carlo Jackpot! Find out all the details of the offer in this article.
1xBet Monte Carlo Jackpot: how does it work?
1xBet offers you an opportunity to win a lot of money, at least $200, with the Monte Carlo Jackpot. Whether you are a poker novice or an expert, as long as you know the basic rules, you can win the grand prize if you get the right card combination. It is easy to participate; all you have to do is:
Enter the Legion Poker section of 1xBet
Find a Hold'em table marked with the 'M' symbol
Play and form the right card combination
At least four players must participate in the hand in order to play for the jackpot. The hand must be played to the River (the fifth card dealt by the dealer). The reward then depends on the combination you get:
For a royal flush, you win 100% of the jackpot
For a single flush, you win 30% of the jackpot
If there is more than one winner, the jackpot is shared between them
The Monte-Carlo jackpot is built up cumulatively. For each transaction on the tables marked "M", a 1% commission is taken to build up the jackpot and so on.
Conditions of participation
Please note that there are a few rules to follow if you want to take advantage of the Monte-Carlo Jackpot offer. First of all, 1xBet may refuse your participation if it detects any attempts to abuse or manipulate this promotion, or any violation of the casino rules. The bookmaker also reserves the right to exclude and remove bonuses from punters using multiple accounts. If for any reason your account is closed during the course of the tournament, you will be automatically excluded from the game. Also, you must comply with the terms and conditions of the website. Finally, all types of bonuses are not available for crypto-currencies without any exception.
If you would like more details, check out the page dedicated to the 1xBet Jackpot Monte Carlo offer in the "Promo" section of the site. You can also ask for advice from the customer service team by sending an email, live chat or by phone. Assistants are available 24 hours a day, 7 days a week.
Relevant news