1xBet online betting
1xBet is basically a sports betting website. Since its launching in 2011 and throughout its growth, the bookmaker has been developing its services following the evolution of the world of sports. Classic and modern bets are available to players who are looking for diversified experiences. 1xBet's catalogue of sports events is also constantly growing, both in the world of football as a classic sport, and in other popular and less advertised disciplines. The Russian bookmaker currently offers one of the richest betting packages on the market. We take stock.
1xBet betting catalogue
1xBet outperforms its competitors operating on the African market in terms of sports betting offer. Its repertoire gathers more than fifty disciplines in order to give full satisfaction to the players. You will find games on several international competitions and local leagues. 1xBet schedules more than 1,000 sports events per day.
As far as betting options are concerned, the bookmaker offers over 300 options. Here are some of them:
Single bet
Multiple bet
Handicap bet (European or Asian)
Bet on the total number of goals scored in a match
Bet on the final result of a match
System bet
Bet on the team that opens the score
Bet on the first goalscorer
Bet on various game events (number of corners, penalties, cards, etc.)
Bet on the course of the game, etc.
If you like football, try your luck with exotic bets: how will the goals be scored? How many penalties will be whistled by the referee? How many corners or cards will there be? And so on. Basketball fans can try a range of alternative HC bets. To enhance your experience, 1xBet has designed a variety of features such as the bet generator, the "Change my bet" option or even the Asian view. Double chance betting, combination betting, interval betting… The possibilities are numerous, it's up to you to choose and explore the offers for maximum winnings.
How to find sports betting on 1xBet?
Search by categories
As its catalogue is huge, 1xBet has taken care to design an ergonomic categorization so that each player can quickly access the offers that interest them. By clicking on the 'Sports Betting' tab, you will see a table appear. A sidebar displays the available sports, ranging from the most popular ones like football, tennis and basketball to lesser-known disciplines such as hurling, Gaelic football, greyhound racing, motor sports like Formula 1, car racing, etc. With this table, you can not only find bets easily, but also organize your games. You will see that with just a few clicks you can get your hands on your favorite league or a particular sporting event.
The opportunities
1xBet sets itself apart from its competitors on the online betting market by offering players many opportunities to make more profit. On the sidebar, explore the 'Matches', 'Recommended for you', '1 period', '2 period', etc., and then scroll down to spot the good opportunities. Whether you are a beginner or an experienced sports bettor, these offers are available to everybody and they are easy to understand.
Live betting at 1xbet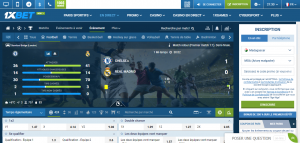 In addition to its wide range of pre-match bets, 1xBet is also well known for its live betting offer. To access this, click on the 'Live' tab next to the 'Sports Betting' section. This section lists a multitude of live bets on sports events, but also on e-sports events. By selecting a match, you can see the statistics and manage your bets in real time (as shown in the image on the left). There is even an online TV function that allows you to watch the match live.
How do I make a bet at 1xBet?
When you log on to 1xBet, you will find your betting slip on the left hand side of your screen. It is easy to use: all you have to do is select the bet, click on the odds and give your prediction. You can make dozens of bets on the same ticket, and also enter a promo code if you have one to increase your potential winnings. You then have to validate and that's it. At the same time, the "My Bets" option includes your prediction history on the events you bet on.
It would be impossible to cover all the sports betting options available at 1xBet in one article. We have given you an overview here to help you find your way around the site.
Relevant news