1xBet Poker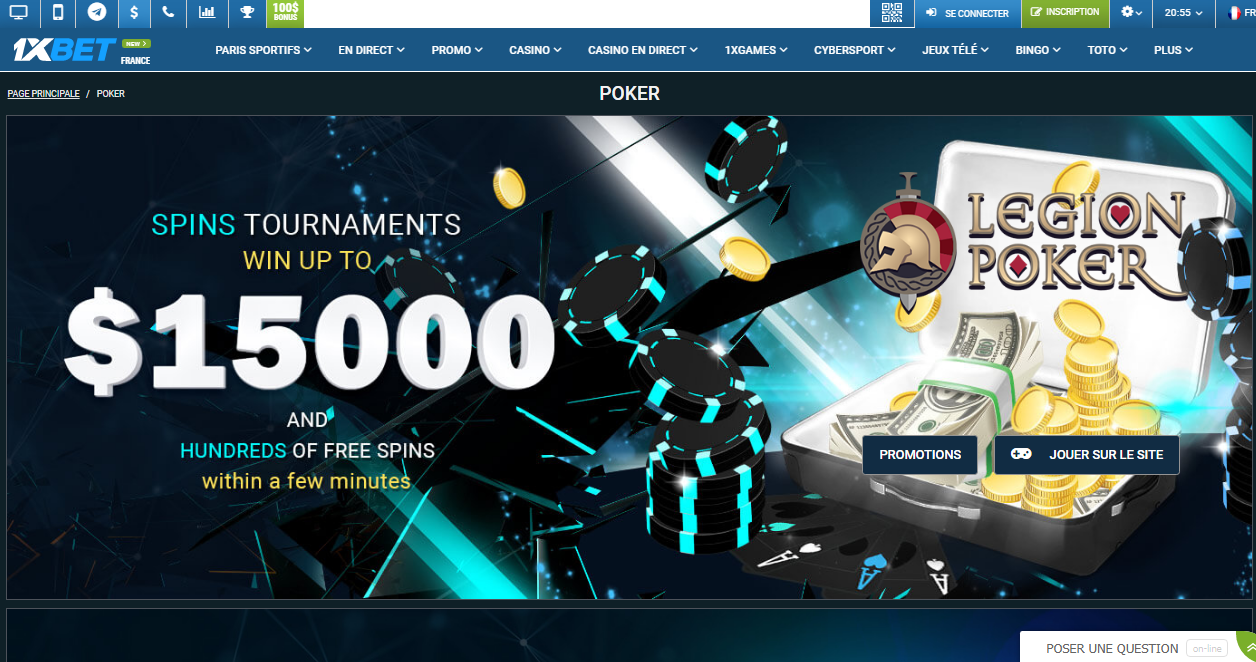 Compete against players from all over the world in the 1xBet Poker section. Live your passion while trying to win interesting prize pools by exploring the many available tables. Finally, do not forget to take advantage of the various promotions for even more fun and winnings!
How to access the 1xBet Poker section?
Go to the official 1xBet website. On the horizontal navigation bar at the top of the page, scroll down to the 'More' drop-down menu and click on the 'Poker' section at the bottom of the 'Online Games' heading.
What does the 1xBet Poker section include?
1xBet ensures a high-quality experience with its three poker rooms: Legion Poker, 1xBet Poker and IDN Poker. To access the full range of games, you need to create an account. However, some games are available for free.
Legion Poker
The Legion Poker section offers different types of poker games:
Cash games: Texas Hold'em, Hold'em Omaha, Omaha Hi/Lo, Stud or Stud Lo are all available. You can play with fixed or variable limits, or without any limits at all. You are free to bet different amounts and join tables with different numbers of players. The cash game tables can accommodate up to 8 players.
Sit and Go Tournaments: Very popular with poker players, these competitions can have up to 45 players.
Spin and Go games, etc.
Take advantage of this great variety to perfect your strategy to win your games. Cash Hold'em Texas and Omaha tables regularly host players. As for the tournaments, few are still signing up, apart from the daily freeroll tournaments that are very popular with fans. This promotion allows you to play without paying a fee, and a prize pool is reserved for the winners, hence its success.
1xBet Poker
Less modern than its previous peer, the 1xBet Poker section is primarily aimed at mobile device users. It is available in the 1xBet app for iOS or Android. This accessibility means that there are many more players connected, at any time of the day. During peak periods, the number of players can easily exceed 300.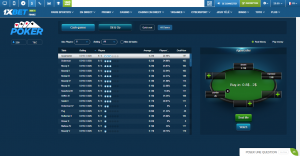 However, 1xBet Poker is not very developed. As a result, the range of games is limited. The games are based around Hold'em, with no limits. You can participate in cash games or Sit and Go's, but there are no tournaments yet.
IDN Poker
In full expansion, IDN Poker is still restricted to Asian countries, including China, Malaysia, Philippines, Vietnam, Indonesia and Thailand. However, you can try using a VPN to get around the geographical restriction. The site gives you the opportunity to try a Chinese poker variant called Capsa Susun.
Find out about bonuses and promotions at 1xbet Poker
The Poker section of 1xBet offers three main promotions: Spin tournaments, the Monte Carlo Jackpot and the USD 1,200 freeroll.
Spin tournaments
This promotion is aimed at competitors in Legion Poker's special spins tournaments. The room regularly holds rotating competitions, with prizes reaching thousands of dollars in cash. The offered format is three-player no-limit Hold'em, Sit and Go. You will be charged a buy-in fee and commission to participate, but if you win, you will pocket a hundred times more money!
The Monte Carlo Jackpot
Still in the Legion Poker section, the Monte Carlo Jackpot offers an additional reward, in addition to the port won with a hand. Look for poker tables showing the 'M' mark to take advantage of this opportunity.  The Monte Carlo Jackpot is only available for Texas Hold'em. You get the full jackpot by hitting a royal flush. A single straight flush earns you 30% of the prize. Please note that both your cards must be used to claim a win.
The $1,200 Freeroll
Finally, the freeroll allows you to get a portion of the prize money if you use crypto-currencies when depositing. You will have the opportunity to play without paying by signing up for the daily free buys and games.
In summary, the 1xBet Poker section has everything to satisfy both beginners and regulars. Whether you are looking for fun games or a professional looking for rewarding tables and tournaments, the rooms will have something to suit your needs. In addition to the many game formats and betting options that are available, you will usually find live tables 24 hours a day. Install the specially designed PC browser for 1xBet to easily access your favorite games. Don't forget to download the 1xBet mobile app so you can play anywhere, anytime!
Relevant news