1xBet – Risk free betting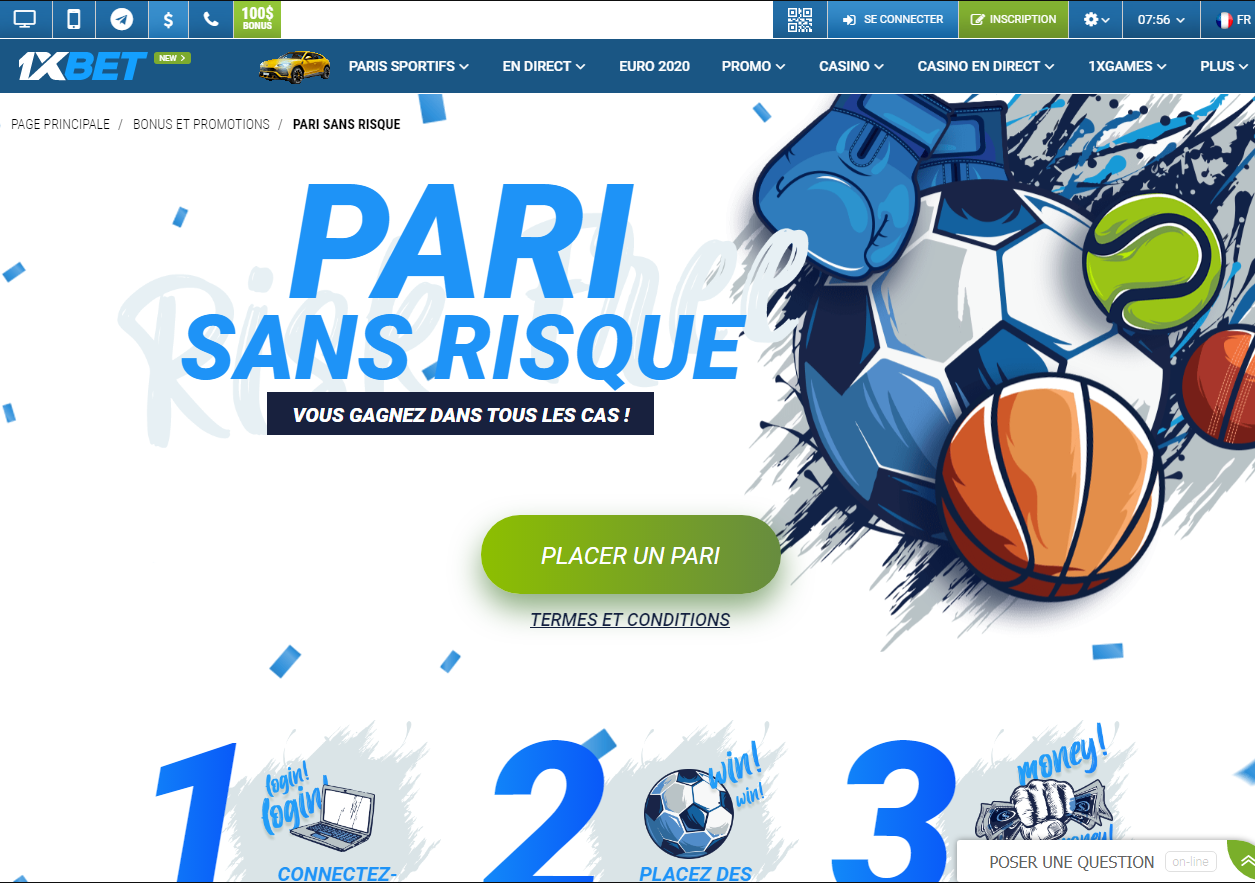 In sports betting, nothing is decided in advance and sometimes it is very difficult to predict the outcome of a match. When you are unsure about your predictions, but still want to bet on an event, you can participate in the 1xBet Risk Free Betting promotion. This offer allows you to place a bet on a match eligible for the promotion. If you lose, 1xBet will refund you up to $10! More details in this article.
1xBet Risk Free Betting: How does it work?
Let's start with the steps you need to take to be eligible for this promotion. First of all, log in to your 1xBet account or create one if you do not have one yet. Then go to "Account Settings" and confirm your "Bonus Offer Participation".  Once you have done this, all you have to do is to find an event to bet on. You can record your predictions before or during the match (live betting).
When your bet and your participation in the promotion are validated, you just have to wait for the end of the match and see the results. If your prediction is correct, you will receive the normal winnings. If you lose the bet, you will be refunded within 24 hours. The refund is given in the form of a promo code with a maximum amount of $10. The rules for using and verifying the code are given in a section in 'Account Settings'. The 1xBet Risk Free Bet offer is only valid for the first bet you place from the moment you join the promotion.
Risk free betting promo terms and conditions
As with all 1xBet promotions, you need to be a member of the platform to benefit from the Risk Free Betting offer. Make sure your profile is complete and your phone number is activated. As mentioned before, you are only allowed one bet on one match when the offer is activated. If you lose, the amount refunded is equal to the bet placed, not exceeding $10. You cannot combine multiple promotions at 1xBet or your bonuses will be cancelled. All 1xBet promotions and bonuses are unavailable for cryptocurrencies. For more details on the terms and conditions of the Risk Free Betting offer, go to the Promo section of 1xBet or contact customer support.
Relevant news