1xBet – Spins tournament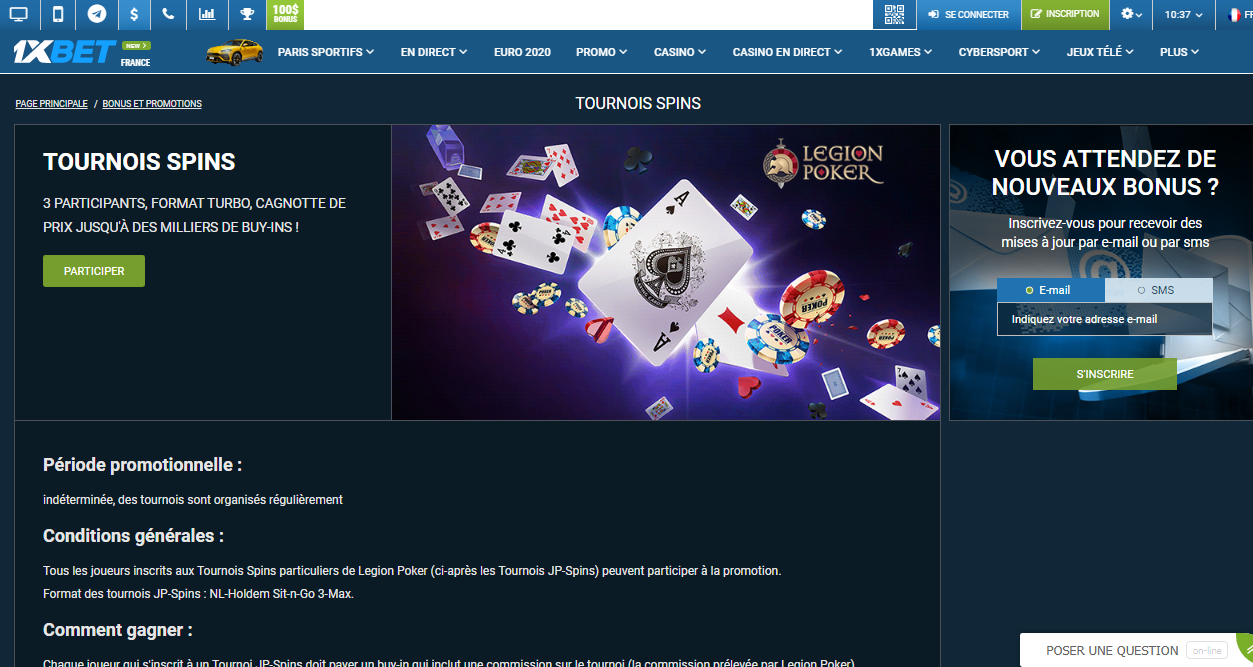 Get rich in a few hours by trying your luck at 1xBet's spin tournaments. For each competition, prize pools are randomly awarded. You can win a lot of money in a couple of minutes. For poker enthusiasts, this is an exciting, fast-paced challenge with huge payout possibilities. Find out what you need to know about this great promotion in this article.
1xBet Spins tournament: What is it and how does it work?
Available in the Legion Poker section, spin tournaments at 1xBet adopt the JP-Spins format: NL-Holdem Sit-n-Go 3-Max. It is a fast-paced competition where the prize pool randomly drawn can quickly reach billions of chips. To participate in the offer, first complete your registration and select the tournaments you want to play in. Once you have completed your registration, wait for two more players to join the table. As soon as the third candidate is confirmed, 1xBet will start the draw to determine the tournament prize pool. The prize will be visible to all players. The game then begins, the first hand is dealt and may the best player win!
Spins tournament terms and conditions
Each participant in the spin tournaments pays a commission. The cost depends on the amount of your membership. The prize pool is then made up of a global commission taken from the three competing players. Then, in addition, there is the sum generated by the membership and other contributions. To win the grand prize, all you need to do is to get the right combination of cards.
As previously mentioned, the prize is distributed by a random draw in Legion Poker. The grand prize winner will receive the majority of the prize money, while the other two players may sometimes receive smaller prizes depending on the tournament prize pool. If the prize pool is not enough to pay all three players, Legion Poker will award a special bonus to the winner's account.
Check out the spins tournament page in the promo section of the 1xBet website for a detailed overview of the offer. There you will find summary tables, as well as the eligibility requirements for the tournaments. If you have any doubts, do not hesitate to contact the 1xBet customer service. You can ask your questions by email, by phone or via live chat. Advisors who speak several languages, including French and English, are at your disposal 24 hours a day, 7 days a week.
Relevant news