1xBet Star Jackpot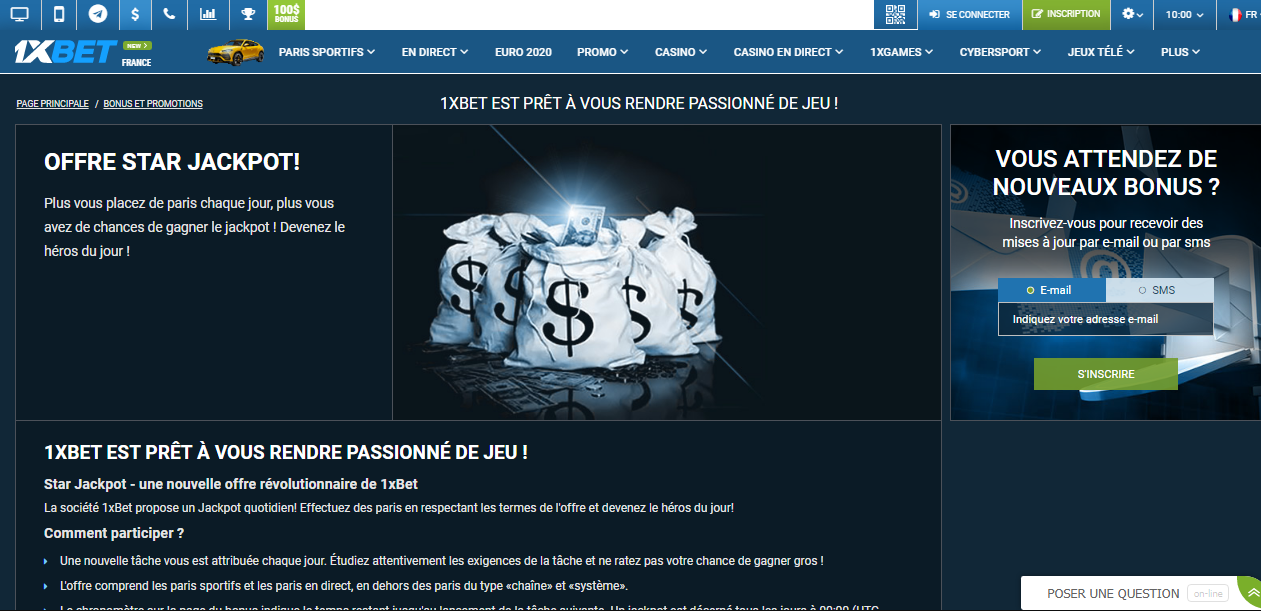 1xBet has a knack for stunning us with offers that are as amazing as each other. Among the hottest ones at the moment, discover the 1xBet Star Jackpot promotion. In this article you will find all you need to know about this new opportunity to boost your winnings.
1xBet Star Jackpot: an innovative concept to reward punters
The Star Jackpot is a daily betting programme, which has its own terms and conditions, but the general flow of which is to perform various tasks to become the big winner of the day.
How to participate in the Star Jackpot
Whether you play on mobile or PC, there are a few rules to follow to participate in the Star Jackpot. Every day, 1xBet gives you a new task. Take a good look at the instructions, because the better you master them, the better your chances of winning the game. The Star Jackpot is divided into two categories: standard sports betting and live betting (excluding chain and system betting).
As the validity of the task is limited, you will see a timer indicating the remaining time on the bonus page. In order to mitigate the effects of time differences, 1xBet uses the universal time standard. Thus, a jackpot is given away every day at 00:00 UTC (UTC +03:00). At the end of each game, a new task is published.
The amount of the piggy bank is displayed on the homepage of the 1xBet website, as well as in the offer details in the "Promo" section. You can view your bet coupon number in the current draw or in the previous game. Remember that the more bets you place, the better your chances of winning the grand prize. As with the majority of promotions and bonuses on 1xBet, the Star Jackpot is disabled for all cryptocurrencies.
Relevant news