1xBet support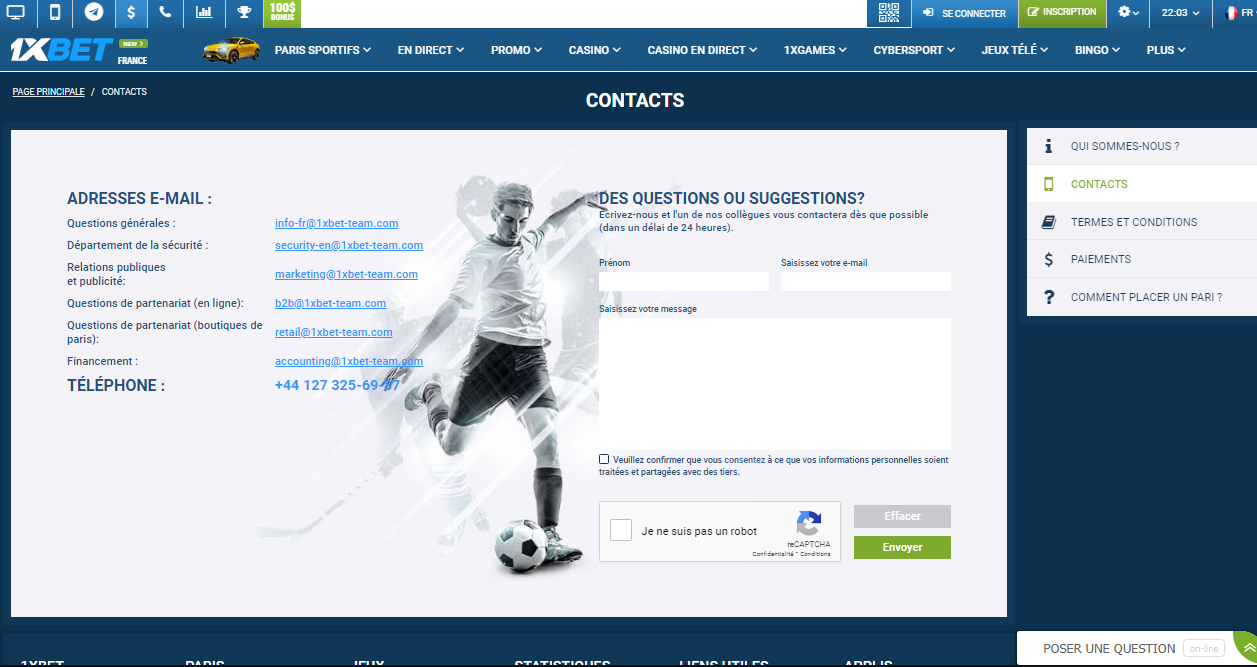 As a major online betting provider with hundreds of thousands of members worldwide, 1xBet is committed to providing high performance technical support.  The company has made it a point to build up a well-organized strategy and team of advisors to satisfy its customers. The bookmaker operators are at the bedside of players in difficulty, day and night. To get in touch with 1xBet Support, you can use the following channels.
1xBet support: the hotline number
If you have a problem or would like more information about the site and its use, you can contact the 1xBet support assistants by telephone via the number displayed at the bottom of the homepage. As soon as you open the portal, the system automatically detects your geographical area and displays the corresponding contacts. The service is available for both visitors and subscribers.
Due to the high volume of calls, you may have to wait several minutes for the connection to be established. If the line is busy for too long, but you still want to talk to an advisor, you can request a "call-back". To do this, open the 'phone' tab in the top menu on the far left of the screen. There is a form to fill in, where you will need to fill in your phone number. Then click on "Request a callback" to start the process. Again, you will need to be patient before you receive a response. The service may take several minutes to get back to you.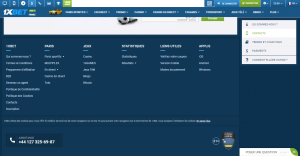 1xBet support: online chat
A very popular tool among modern sites, the online chat allows you to chat live with 1xBet's technical support. Simply click on the "Ask a question" option at the bottom right of the screen to start chatting. In order not to interfere with your visual comfort while browsing, the tab stays still as you scroll down the page. The service is especially useful if you are already registered on the platform to speed up the resolution of problems. Alternatively, the system will provide you with automatic answers from the FAQ.
1xBet support: email addresses
Given its size and the diversity of its services, 1xBet cannot limit itself to a single e-mail address to receive requests from its users. Requests for information arrive in large numbers, and to facilitate their sorting and processing, the bookmaker uses several email addresses depending on their subject:
For questions relating to the game in general, send your e-mail to info@1xbet-team.com. This is the main address for 1xBet customer support. You can ask them for any information about the game activity, but also what to do if you encounter an error or technical problems.
Technical support can be reached at support@1xbet-team.com.
The security department can be reached at security@1xbet-team.com. Among other things, they are in charge of identification procedures. You can contact this department if you discover fraudulent activity on the site or other actions that could endanger the safety of users.
The address of the Public Relations and Advertising Department is marketing@1xbet-team.com. This department mainly deals with relations with large-scale advertising partners, as well as journalists who wish to report on the work of 1xBet.
1xBet receives partnership offers online via b2b@1xbet-team.com. This channel is exclusively for professionals, owners of gambling portals, who want to integrate 1xBet's services on their platforms.
The offline partnership department can be reached at retail@1xbet-team.com. This section is reserved for entrepreneurs who own a land-based gaming shop and wish to add 1xBet services to their offering.
The finance department can be reached at accounting@1xbet-team.com and deals with billing issues.
The Payment Management department, which is served by processing@1xbet-team.com, is responsible for the operation of the transaction methods. You can write to them if you have problems crediting your account or withdrawing your winnings.
To avoid wasting time and to help the advisors find the best answer to your query, ask clear questions, giving as much detail as possible. As the call center employs ordinary people, moderate your tone and language, do not use jargon or inappropriate words. Good, clear and respectful communication will make it easier to find solutions.
Relevant news