1xBet VIP Cashback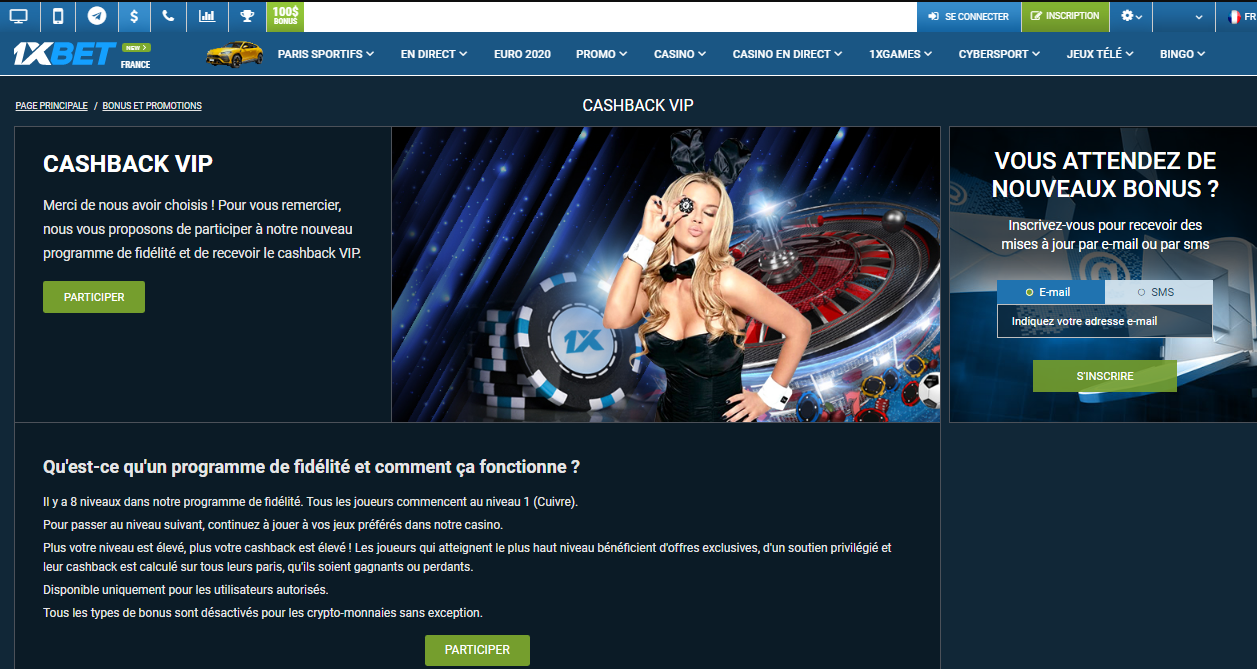 All bookmakers have their own strategy to retain and reward their most active members. As one of the platforms with the highest number of subscribers in the online betting market, 1xBet also offers many benefits to punters in order to keep them. In addition to welcome bonuses and weekly promotions, by betting regularly on the site, you can participate in the 1xBet Cashback VIP offer. Here's the lowdown.
1xBet " VIP Cashback ": what is it?
To thank its most regular users, 1xBet has developed the "VIP Cashback" loyalty programme. Mainly used in banking language, cashback is a system of money back for online financial transactions. The principle consists of refunding the customer after the transaction, and in the case of 1xBet, the refund is made in the form of bets.
How does the 1xBet VIP Cashback loyalty programme work?
To be eligible for the 1xBet VIP Cashback offer, you must of course be registered with the site and considered active as well. To do this, you need to bet fairly regularly, while at the same time participating in the other promotions. The loyalty program has eight levels and if you want to be qualified, you will naturally have to start with level 1 (copper).
To move up to the next level, you need to bet on the casino games offered by 1xBet and collect points. The more you bet on the slot machines, the more points you will get to increase your level. The higher your level, the more cashback you get. Subscribers who manage to reach the highest level are entitled to special promotions and privileged support.
To determine the amount of your cashback, 1xBet makes a calculation based on all the bets you make, whether you win or lose. So, do not hesitate to play as many casino games as possible on the portal, because each experience will allow you to progress through the levels and receive your VIP Cashback.
Go to the "Promo" section of the site to find out the conditions for obtaining the 1xBet VIP Cashback offer. Follow all procedures carefully. For your information, this promotion is disabled for all crypto-currencies. To receive personalized information, you can contact the customer service of 1xBet, which can be reached 24 hours a day, 7 days a week by email, phone or live chat.
Relevant news