1xBet Withdrawal methods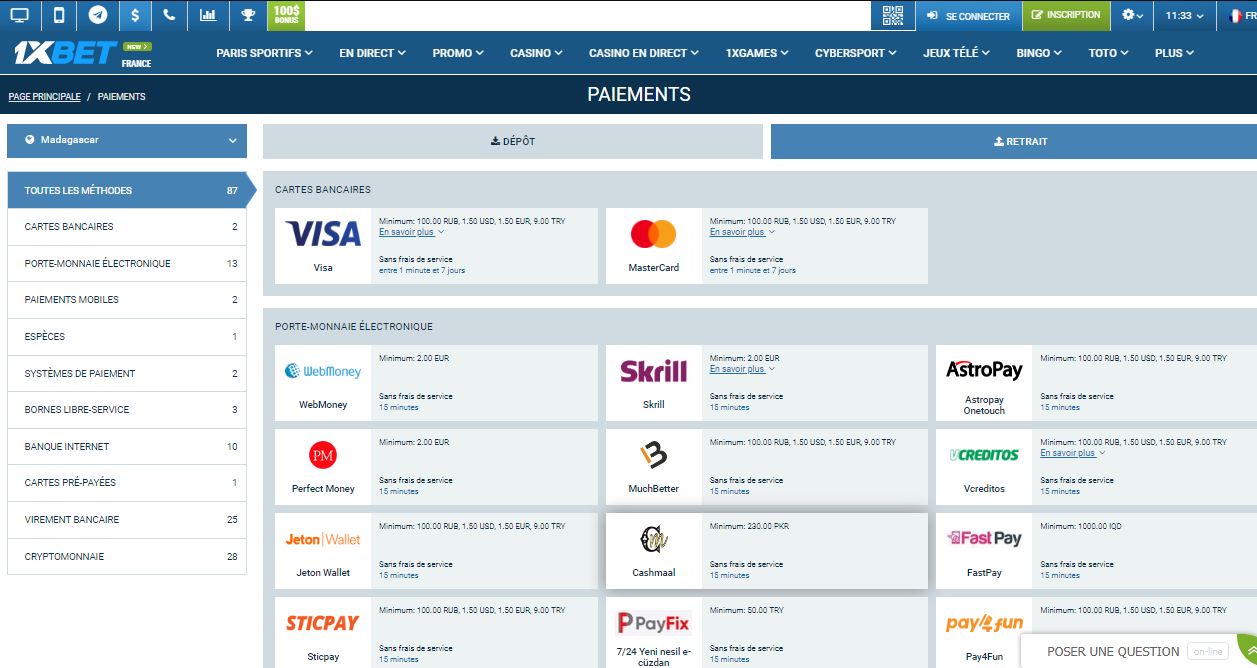 Online betting is becoming increasingly popular with sports fans. 1xBet in particular allows you to win a lot of money from your office or home, without having to go to a kiosk. Thanks to an online TV function, you can follow the matches of your favorite team or sport at home.
Among many other advantages of the bookmaker, there are also simplified and secure withdrawal procedures. As long as you adhere to the payment terms, you do not have to worry about your funds being blocked, as can be the case with other online betting sites. 1xBet is a reputable company, both legal and reliable, as indicated by the positive feedback from its many users.
How do I make a withdrawal at 1xBet?
What payment methods are allowed?
1xBet offers a wide selection of payment systems for withdrawals. The most popular services are accepted and in some African countries it is even possible to cash out your winnings via mobile money. Among other solutions available are: VISA and MasterCard, Qiwi e-wallets, Skrill, Neteller, Perfect Money, WebMoney, Orange Money, MTN mobile money, Moneta.ru, etc. Most of these transaction methods are also available for deposits.
What are the steps to follow to make a withdrawal at 1xBet?
This is how you can withdraw your winnings at 1xBet:
Go to the official website 1xbet.com
Log in to your account by entering your username and password correctly in the dedicated fields.
Open your personal account menu and select the "Withdraw Funds" tab
Enter the amount you wish to withdraw and select your payment method
Confirm the transaction and wait for the money to be deposited into your account
1xBet will not make you wait long for your profits. The processing time for withdrawals varies from 5 to 10 minutes, up to 24 hours following the payment system used. The amount of money that can be withdrawn also varies depending on the payment service.
You can make withdrawals from your mobile phone, but this requires special conditions. First of all, read the site rules carefully. Then, if you have specific questions, you can ask for help from the customer support team, either by phone, email or online chat. Advisors operate 24 hours a day, 7 days a week, to help 1xBet users.
1xBet withdrawal: the most common problems
Unverified account
Withdrawal problems are most often related to the non-verification of the player's account. However, this check is necessary to prove your personal information. If you have ignored this step, you will not be able to withdraw your winnings. During this process, 1xBet will ask you to provide a copy of your passport by email. The processing time is one to two days. The bookmaker will notify you if the verification is successful or if there are any problems.
Withdrawing bonuses
Many punters find it difficult to withdraw their money from the bonus account. Be aware that you can only withdraw the funds if you meet all the requirements of the promotion. Check out the bonus rules at 1xBet for detailed information.
Other
When making a withdrawal via mobile money, make sure that the phone number you enter is correct. Also check your remaining balance to see if the amount allows you to make at least the minimum withdrawal. If your account is blocked, this may be due to suspected age or betting fraud. In this situation, it is important that you contact the 1xBet support team as soon as possible to find out why.
Conclusion
As far as withdrawals are concerned, the majority of punters are satisfied with the payment procedures at 1xBet. Funds are rarely blocked. In terms of security, the bookmaker uses state-of-the-art technology to protect your money. In conclusion, we strongly recommend that you use the same service for your deposit and withdrawal operations.
Relevant news