22Bet Birthday Bonus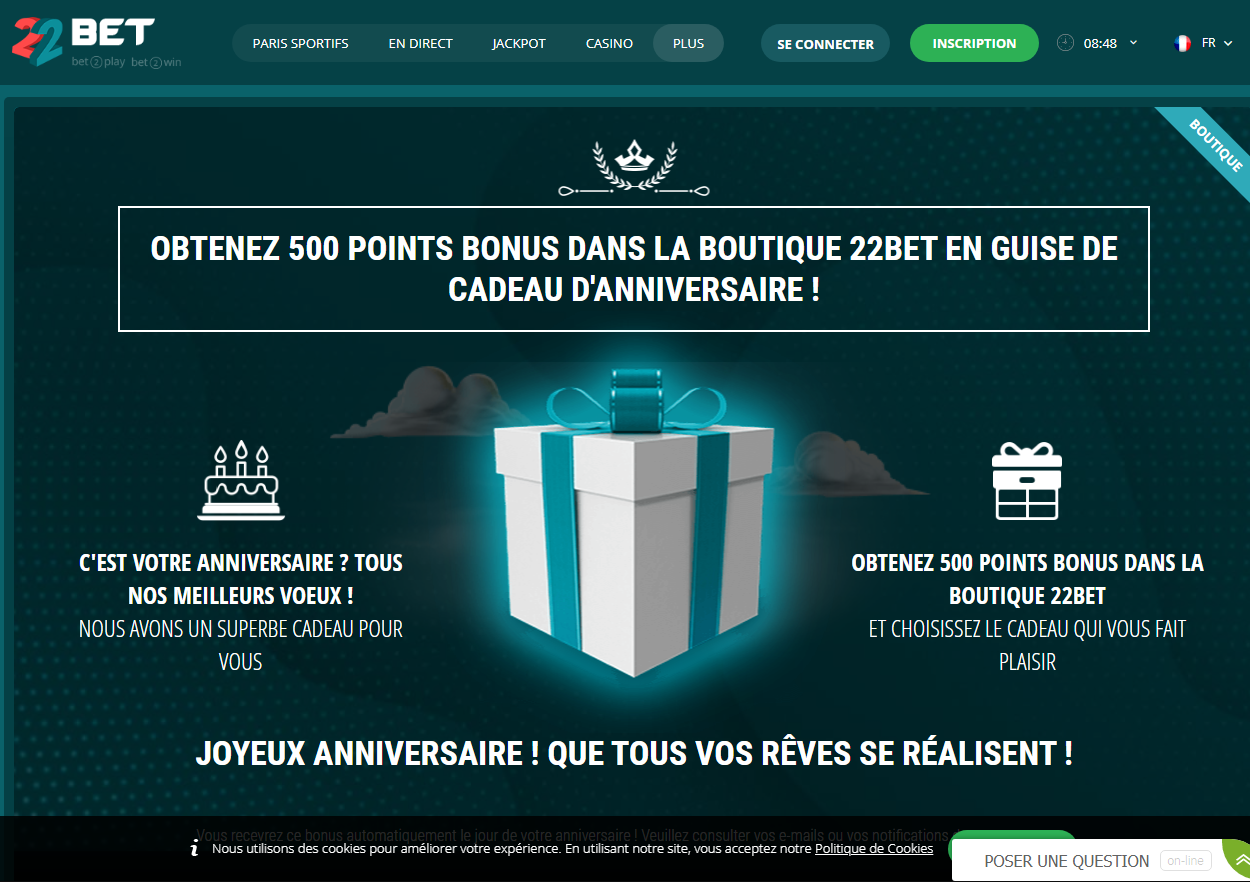 For 22Bet, the promotions are a way to build a strong relationship with the players. In addition to the common benefits, the bookmaker offers personalized deals to keep you happy. That is why, on your birthday, you are entitled to a special bonus to let you have fun. Find out more in this post.
22Bet Birthday Bonus: how to benefit from the offer?
In order to receive the birthday bonus, you must have a "verified" account at 22Bet. Don't worry, the verification process is quick and opens up many opportunities for you. After this step, you have access to the full range of 22Bet's sports betting and casino games, as well as to all kinds of promotions.
The birthday bonus is one of the special benefits 22Bet has in store for its members. "500 bonus points" is the gift that is waiting for you to celebrate your birthday at the online betting site. You can redeem these points for various services in the 22Bet shop to get more spins to play or bets to place.
Bonus requirements
In addition to verifying your account, there are a few other requirements to meet in order to take advantage of the birthday bonus at 22Bet. You will find all the details on the offer page in the "Bonus" section of the site. Please read the overview carefully to make sure you receive the gift on the D-day.
First of all, you do not need to apply to benefit from the birthday bonus at 22Bet. You just need to provide a working email and phone number, and agree to receive emails from the company. All the fields in your profile in "My account" must be completed. In "Settings", confirm your participation in the bonus program.
Then the terms and conditions of the site will apply. Beware of abuse and fraud, as 22Bet has the right to refuse your participation in a promotion or even suspend your account if it detects any malicious attempts on your part. If you have any doubts or questions, please contact customer support to get personalized answers.
Relevant news