22Bet Bonus for a losing streak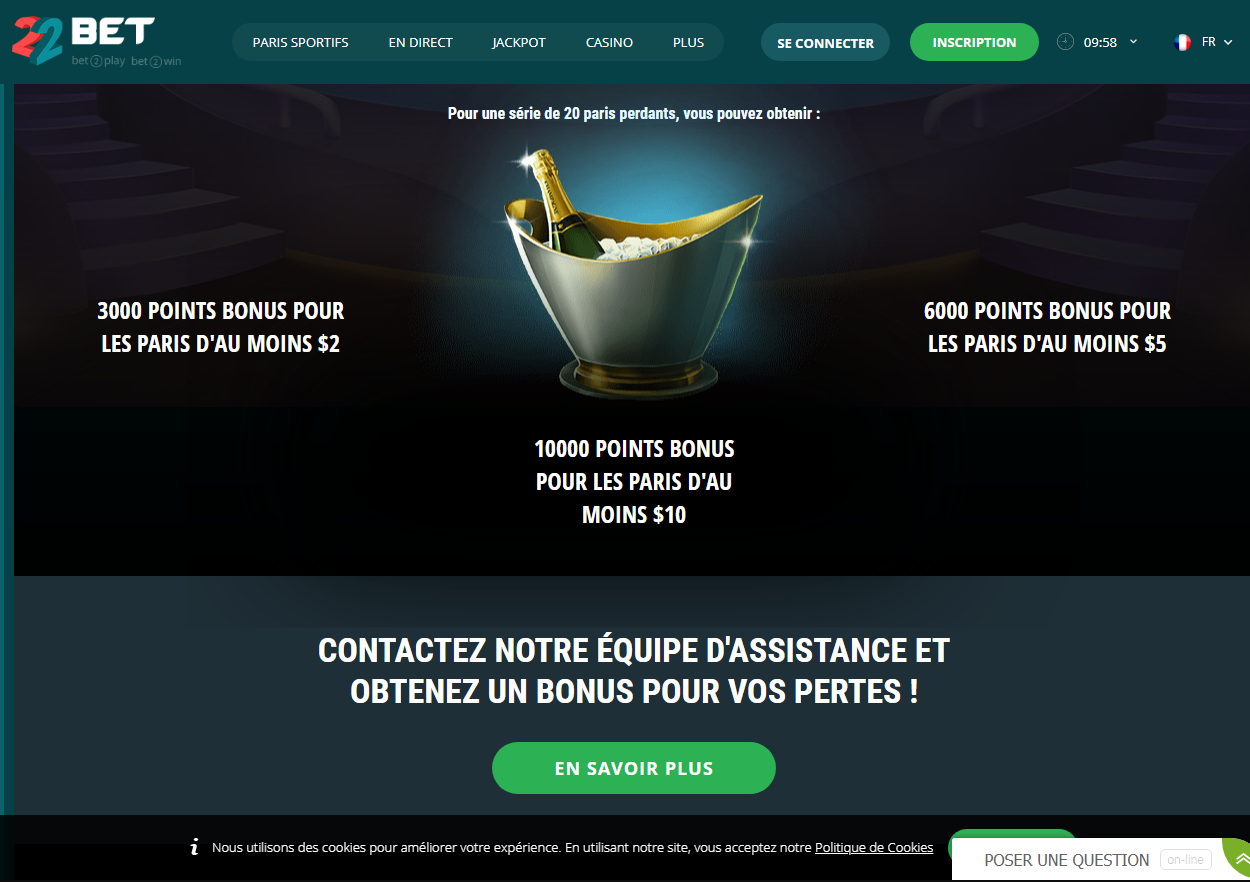 In sports betting, there are always ups and downs. When you go through a series of bad luck, 22Bet is there to support you! To motivate you to keep going, your bookmaker will give you a bonus for a losing streak. Here are the requirements.
22Bet Bonus for a series of consecutive losing bets: support in difficult times
Winning at sports betting is a matter of both analysis and chance. Nothing is really a foregone conclusion. No matter how hard you work on your predictions, if luck is not on your side, you can lose. Moreover, this bad luck can extend over a certain period of time. The 22Bet team knows this and has taken actions to help you through these tough times.
So when you experience consecutive losses, do not get discouraged. Your bookmaker gives you the opportunity to bounce back with the bonus for a losing streak. For a series of 20 losing bets, you can receive :
3,000 bonus points for bets of at least €2
6,000 bonus points for bets of at least €5
10,000 bonus points for bets of at least €10
Bonus conditions
Firstly, you must have completed all the registration and account verification steps at 22Bet. Secondly, you must be an active player. You must place 20 consecutive losing bets within a period of 30 days to qualify for the bonus. For each bet, you have to bet at least 2 euros, with odds under 3.00. Please note that the offer only takes into account single and combined bets. For combined bets, the bets must be placed on different sports and results, and all events in the coupon must be losers. Bonuses in all forms are disabled for cryptocurrencies.
If you meet all these requirements, you can send an email to the 22Bet team to request your bonus for a losing streak. In the subject line of the email, please put "Losing Bets Series" and provide your account number in the body of the letter. If you have any questions, please do not hesitate to contact 22Bet customer support. Advisors can be reached by email and via the Live Chat tab in the bottom right corner of the site.
Relevant news