22Bet Boost combined bet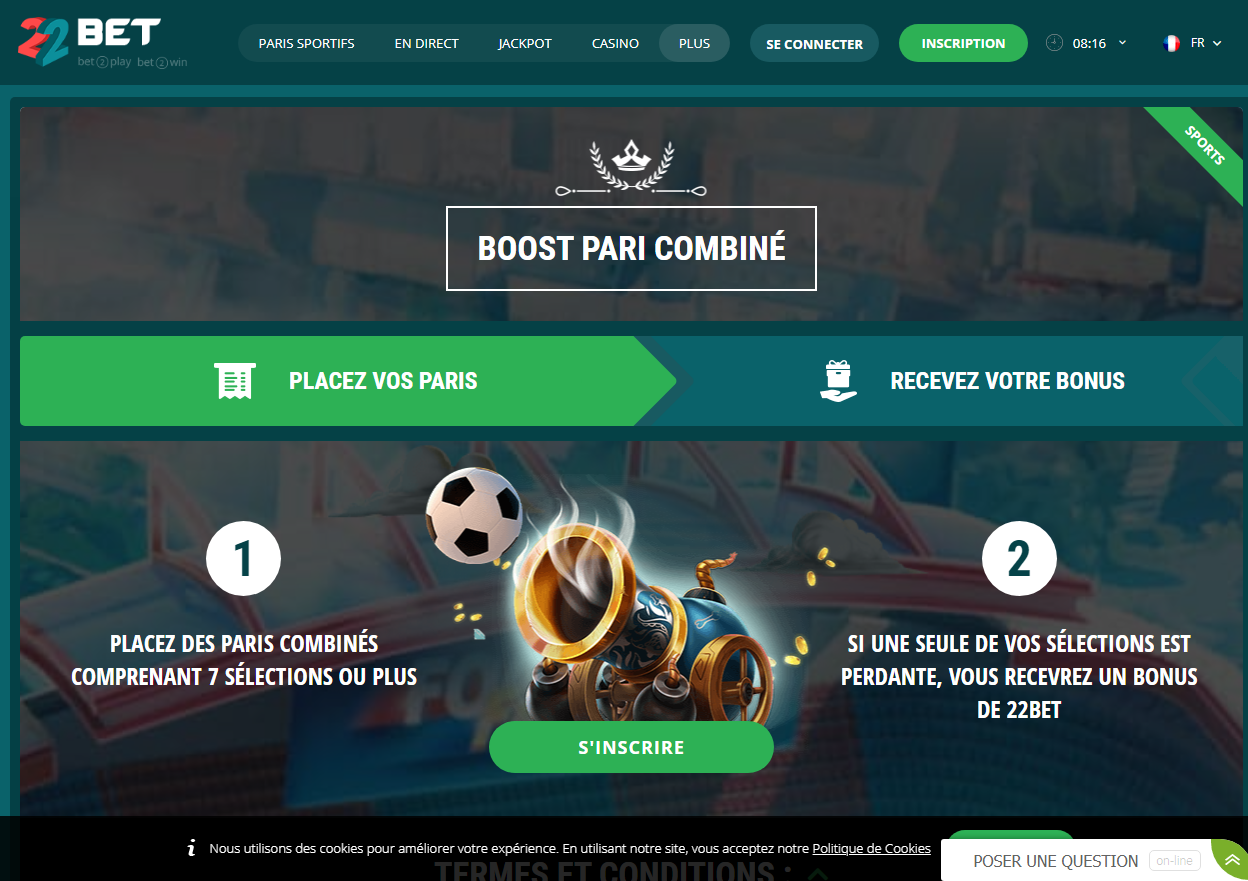 Here's a new promotion that will delight 22Bet members.  With the 22Bet Boost Combined Bet offer, if a prediction on your Combined Bet coupon is lost, you win a bonus! More info below.
22Bet Boost combined bet: how to take advantage of the offer?
This offer is more or less the same as the 22Bet Discount Bonus promotion except that here your bet must lose to receive the reward. Your combined bet must include at least 7 selections, with odds of 1.8 or higher. You can bet on any sport in the 'Sports Betting' or 'Live' sections. The minimum bet is €20. Your winnings then vary depending on the amount you play:
EUR 20 or more – 1000 points
EUR 50 or more – 2000 points
EUR 100 or more – 5000 points
Participation requirements
Participation in the 22Bet Boost Combined Betting Bonus is open to all players with a verified account. Rest assured, after registration, the verification process is not complicated and does not take long. All you have to do is to provide the information and supporting documents requested by 22Bet.  Once you have passed the necessary steps, go to your account settings and accept the bonus participation. When it comes to the betting itself, you must place at least seven bets in the accumulator section. You then need to lose your coupon to get the 22Bet Boost combined bet bonus.
There are a few additional conditions:
Your bets must be placed with your main account. Bets placed with the bonus account will not be accepted.
You will not be able to take advantage of the offer if, when setting up your account, you refused to participate in the 22Bet bonus program.
The 22Bet Boost Combination Betting promotion cannot be combined with any other bonus or special offer.
Check out the offer page on the 22Bet website to see the rules in detail. If you have any doubts, you can ask questions to the customer service of the bookmaker. It is important that you meet all the requirements to be able to benefit from the 22Bet Boost combined bet promo. Feel free to explore the " Bonus " section to see all the opportunities offered by the betting company.
Relevant news