22Bet e-Sports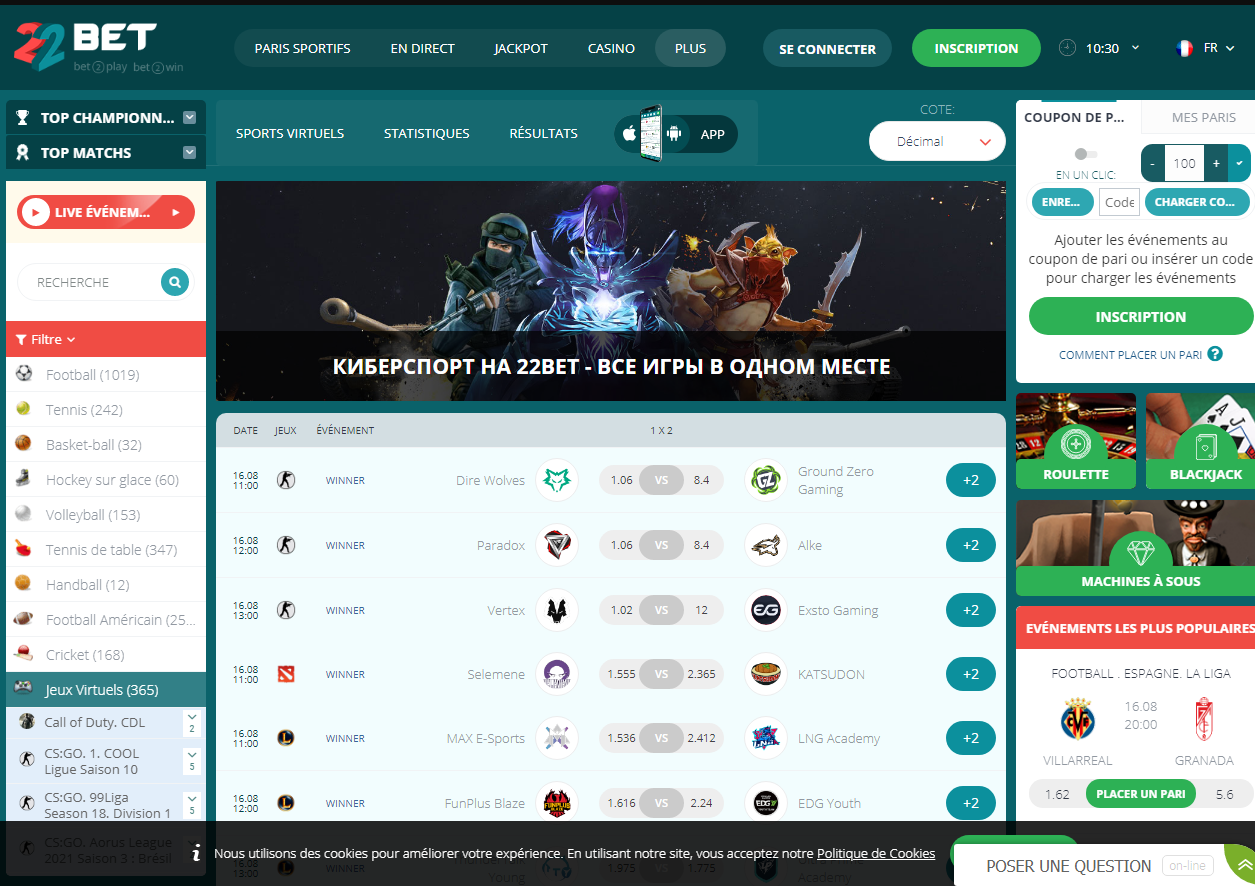 Discover the 22Bet e-Sports experience! League of Legends, Dota 2, CSGO, etc., are you familiar with these games? Well, you should know that you can bet on these games on 22Bet. Here is an overview.
22Bet e-Sports: a new way to have fun and win money
Whether you have registered on the 22Bet website or mobile app, you will have direct access to the e-Sports betting offer. This section lists a vast catalogue of video games, the most popular of which are first-person shooters and MOBAs (Multiplayer Online Battle Arena). The bookmaker offers extensive pre-match and live coverage, with excellent odds to give you maximum fun and winnings.
Dive into the world of 22Bet League of Legend
Place your bets on the most popular MOBA at 22Bet! All the important matches are covered by the bookmaker, both in regional competitions and in international tournaments. Follow the European LEC, the Chinese LPL, the South Korean LCK or even the North American LCS. Take advantage of the bonus offers, which you can then invest in a pre-match bet or in real time, according to your convenience!
Take the 22Bet CSGO challenge
The world's number one FPS is covered extensively on 22Bet. The ESL is, of course, on the programme, with a range of betting options. You can bet on whether a team will win a match or a series of events, the total number of kills and various special markets. During major competitions, 22Bet publishes the odds in advance to give you the chance to do your little analysis and place your bets early.
Win the big prize with 22Bet Dota 2
If you are looking for the big prizes, place your bets in the events of Dota 2 The International. In addition to the main tournament, you also have access to a number of secondary competitions. Among the available betting options, you have the classic markets such as the winners of the matches or a series of events. However, you can also bet on special targets. For example, you can try to predict the next team that will succeed in destroying a tower or conquering the enemy base. As in other betting areas, feel free to check the results to see the favorites and the outsiders.
If you need help about how e-Sports betting works at 22Bet, you can contact customer support at any time.
Relevant news