1xBet – Sponsorship
Categories:
1xbet
|
Published by:
1x2bookmaker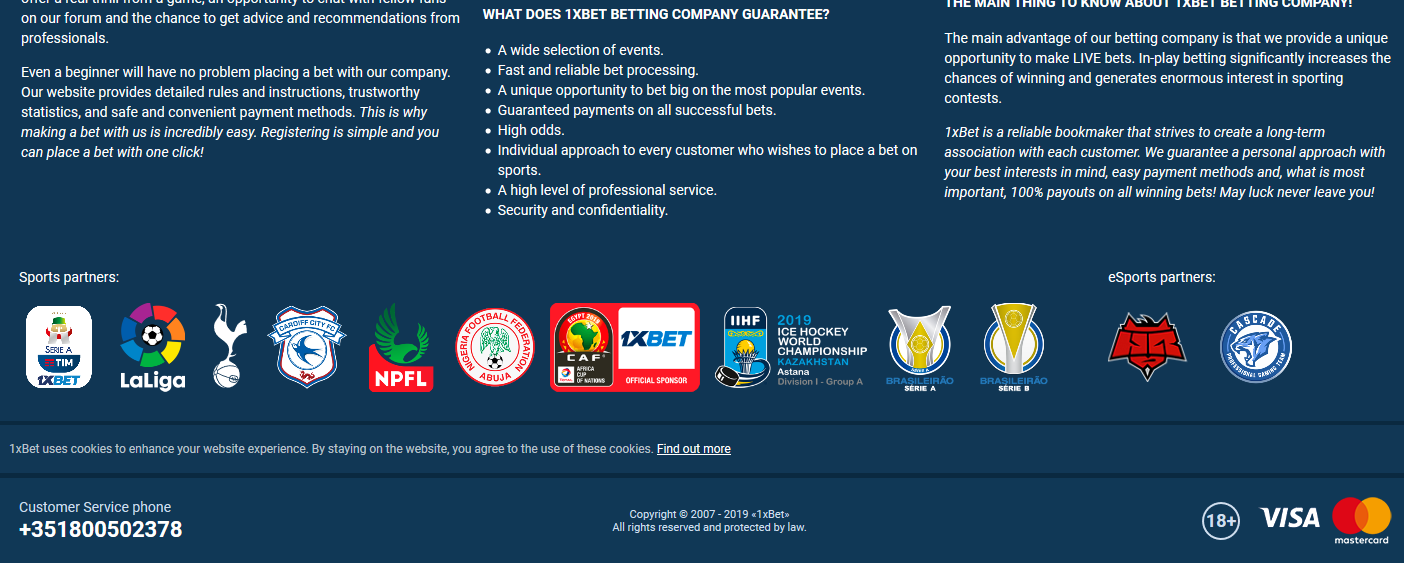 1xBet has forged partnerships with an impressive array of related sports brands of world repute. Sponsorships are a tangible contact that improves 1xBet's reputation and public perception and are a solid contact with a team, player or brand in the world of sports. Since its inception, 1xBet has established itself as a world leader, and sponsorships have played a significant role in achieving that success. 1xBet has become a betting partner for Africa Betting, Serie A, Tottenham Hotspur Football Club, Cardiff City Football Club, and eSports teams as well. The company has recently expanded operations in Africa, with licenses for 10 African nations as we speak. 1xBet helps to promote sports and showcases important events, and the expansion boom shows little signs of slowing. In fact, the company presently operates in over 50 countries around the world, with the number set to increase further.
Improving Sports Across the Globe
By developing strong relationships with sports teams, tournaments and sports associations, 1xBet is partnering with organisations with noble ideals. It's not just about branding, these sponsorships actively uplift sports in the region, thereby playing a significant role in its development. Lives are improved as sports infrastructure is strengthened with these initiatives and partnerships. They also serve to nurture and promote talent in the region and 1xBet sponsors some prestigious tournaments, sports associations, football and eSports teams.
Betting Partners
1xBet has built an impressive portfolio of betting partners and sponsorships. The company has recently expanded operations in Africa with licenses to operate in 10 counties. To consolidate a presence there, the company has entered into partnerships with the Nigeria Football Federation and the CAF African Nations Cup which has further consolidated growth. In fact, 1xBet is represented in The Africa Cup of Nations, CAF Confederation Cup, CAF Super Cup, and CAF Champions League on all official CAF digital platforms along with in-stadium exposure during official games. With The Nigeria Professional Football League (NPFL), 1xBet has partnered with an elite league representing the 20 most popular Nigerian football teams. The Brasilian Serie A is also a reliable betting partner with famous footballer Andrea Pirlo a renowned brand ambassador for 1xBet in the past.
High Profile Football Sponsorships
Tottenham Hotspur is among the top six teams in the English Premier League, making the team a perfect official betting partner for 1xBet. With a new long-term agreement in place, 1xBet will have in-stadium advertising at the Club's home matches on the LED perimeter system, a strong presence on the website and across all official digital channels in Africa. The presence extends to supporters clubs in South Africa, Ghana, and Nigeria. Cardiff City FC is an established English team with a rich history. Although relegated from the Premier League in 2018 – 19 season, the team will bounce back and regain its premier league status soon under new management. Partnering with Cardiff City FC proves 1xBet is committed to backing the underdog and helping to bring success to a smaller club. These strategic betting partnerships allow 1xBet to realise its full potential and expand its presence internationally in Europe, Africa, the Middle East, North and South America. The company has a loyal following and currently one of the most visited top three betting sites in the world, with over 1,000 markets.
ESports Sponsorships
Esports has taken the competitive gaming world by storm and hardly needs any introduction. 1xBet has forged relations in this niche area, identifying promising talent to partner with. One such team is HellRaisers. Since its inception in 2014, the team has developed and improved considerably with the best players from Europe joining the team. Subsequently, since August 2017, HellRaisers has been playing in the European Dota 2 roster. Cascade is another professional eSports team sponsored by 1xBet. Cascade take part in numerous competitive games including StarCraft 2, World of Tanks, CS: GO, Dota, and LoL. With such prestigious betting partners from around the globe, world domination awaits 1xBet, so sign up now and be a part of this exciting and world leading, interns sports betting site.
Relevant news