The season of gifts is arriving, and you can enjoy it now at 1xBet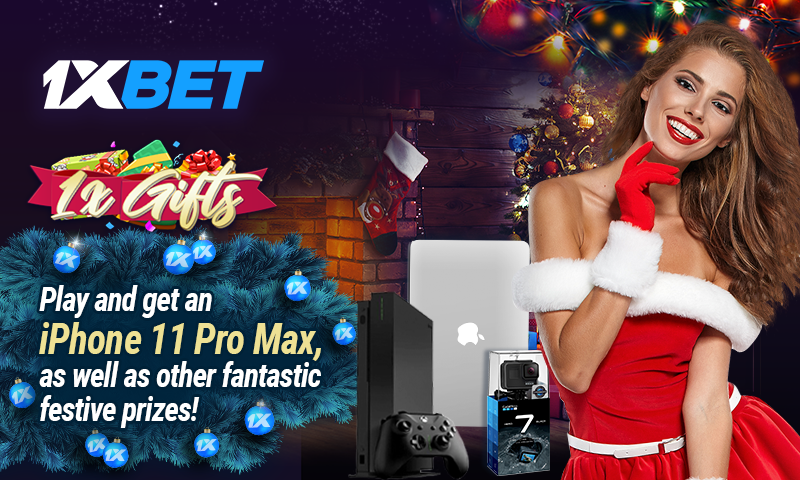 December is a hot month for online gambling with loads of seasonal promotions and bonus giveaways. Almost every betting company has rewards of its own. The best gifts are tangible, and that's just what 1xBet has in store for you this Christmas. Your festivities start right here!
The name of the game and your exclusive Christmas gift is 1xGifts! You can start participating here and now, right from the start! This is no ordinary promo, as you will discover once take part. The 1xGifts Christmas promo sets you on your way to claiming fabulous gifts including,
10 x €1,000
50 x iPhone 11 Pro
30 x iPad Pro
50 x MacBook Air
10 x iPhone 11 Pro Max
50 x GoPro HERO 7
100 x Xbox One X
5 spins of the Lucky Wheel
To benefit from this fantastic 1xBet promotion, all you need to do is be a signed up member at and head to the promotions page on the site where you will find details of the exciting gifts you can claim. Visit the page daily to complete a set of 24 tasks for each day of December till Christmas.
Once you complete the daily tasks, you are guaranteed a prize and the possibility of collecting points when playing the 1xGifts. Consequently, when you play 1xGifts at least ten times until 24th December 2019, you enter the super-prize draw on the 25th December at 18:00 UTC + 3. All the tasks will appear on the special offer promo page where several chances to win open up.
Prepare for an unforgettable holiday season this Christmas. The 1xGifts promo brought to you by 1xBet is set to gift you something extraordinary with the latest gadgets and other exceptional surprises!
Relevant news